/ Source: TODAY Contributor
She's the flower to his watering can, the gnome in his garden.
Sholom Ber Solomon, a fun-loving, British-born Californian, has always enjoyed posing for silly pictures. But last year, he gained a pint-size muse — and the perfect foil — for a series of adorable father-daughter photos.
Solomon and his wife, Carli, welcomed baby Zoe on September 23, and their daughter has starred alongside her dad in charming, themed pictures that he posts on Instagram to a growing following.
"Zoe is definitely an inspiration as now I have a cute partner to add to my photos," Solomon, 36, told TODAY Parents by email. "From the moment she was born, she has been dressed up in all kinds of costumes."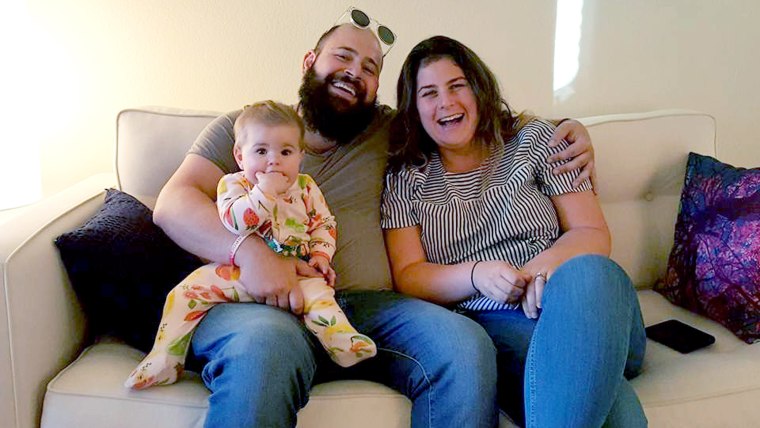 "It really is just about taking silly pictures with my adorable daughter and building wonderful memories," he added.
Solomon, who owns a vintage furniture company, and 9-month-old Zoe have posed as hula dancers, graffiti artists and as a policeman writing a ticket to a chubby-cheeked little driver.
"I see really adorable memories with my daughter that I hope will last a lifetime," he says.
Some of the photos are inspired by real life.
"We recently moved into a home and was thinking with my wife, Carli, how to decorate the front garden, and thought a baby gnome would be perfect," Solomon says.
Inspiration from their life as a young family in San Diego is limitless.
"Anything that I encounter in my daily life, I think how funny it would be to include Zoe in on it and the next thing I know, I've got all the costumes and I'm ready to shoot," Solomon says.
Once everything is ready, the sessions take 10 to 20 minutes.
"I imagine all the photos and set up the shot and then my darling wife, Carli, snaps away," Solomon says.
His favorite of the 13 photos they've created so far involves fast food.
"How can you not love a baby chicken in a bucket," he says.
Carli Solomon, 32, told TODAY Parents by email that "Sholom Ber is as charming in real life as he is on the screen."
"Since we met in 2011, I've been behind his iPhone taking hilarious snaps of him in outrageous costumes," she added. "It's only fitting that Zoe should be in on the fun. He has taken family photos to the next level and I absolutely love it."
All three of them enjoy the process.
"We really love to have fun as a family and this is just part and parcel of being a Solomon," Sholom Ber Solomon says.
He says Zoe is always having a good time when the magic happens.
"Zoe is a happy and giggling baby; when we do fun things together as a family, Zoe is always laughing," he says. "She definitely takes after her father and naturally glows in front of the lens."
Solomon says that since the story about his photos went viral after an article in late June, his Instagram following has swelled from 400 to more than 79,000. He says has received "a vast positive response from every corner of the world."
"I think the reason it appeals to everyone is because it's so relatable," Solomon says. "Everyone is either a parent or child and can appreciate the love therein."
Here's hoping for more love-filled, funny snaps.
TODAY.com contributor Lisa A. Flam is a news and lifestyles reporter in New York. Follow her on Twitter and Facebook.