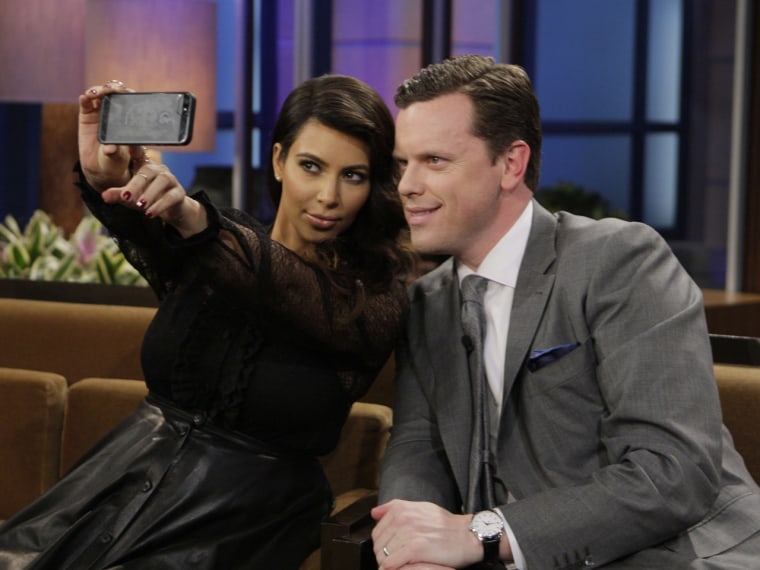 Father-of-two Willie Geist gave pregnant Kim Kardashian some unique parenting tips during an appearance on Jay Leno's "Tonight Show'' Thursday.
First, she needs to make sure that the baby's father, Kanye West, is comfortable wearing a Baby Bjorn.
Second, the couple should enlist the police as co-parents.
"Another thing we do, and I don't know if you want to use this or not, is we use local law enforcement to help in the discipline of our children,'' Geist told her.
Geist will have been married to his high school sweetheart, Christina, for 10 years in May. They're parents to Lucy, 5, and George, 3. 
The Geists live near the 20th precinct of the New York City Police Department, and they occasionally pop in for some assistance.
"The cops know us by now, so when we come in, one of the nice officers comes up from behind and we say, 'Officer, I hate to bring this up I know you're busy, you got bigger fish to fry, but George didn't eat his vegetables tonight,''' Geist said. "The New York police, God bless them, they play along, and George, who idolizes the police like any little kid does, looks up at him with these eyes and the cop says (in New York accent), 'George you gotta eat your vegetables, what are you doing buddy? You gotta eat your vegetables, c'mon. George, you can't hit your sister, do you understand George?' It keeps him good for a week."
Geist clarified his approach on TODAY Friday.
"I want to be clear, I've never placed my 3-year-old behind bars, for the record,'' he said. "That's never happened."
Geist also brings his son to the precinct to let the police know when he has been a good boy, and he said the police give George a special patch every time.
"At this point, he is the most decorated officer in New York City,'' Geist said.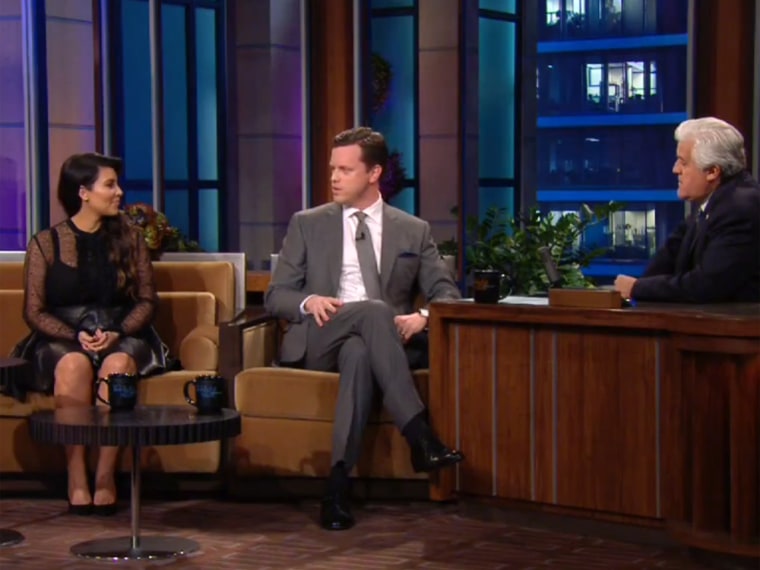 Geist urged Kardashian to get Kanye's stance on the Baby Bjorn. Kardashian joked that the fashion-conscious Kanye may opt for a black leather version.
"Kanye is going to have to decide early whether or not he's a Baby Bjorn guy because the minute you put on that Baby Bjorn, there's no turning back,'' Willie told Kim. "It's like buying a minivan. You lose a little piece of yourself when you get that Baby Bjorn."
He also gave Kardashian advice on what to do if one of her children is completely naked in the middle of the night and holding a bag of chicken nuggets, like George was recently as Geist prepared for work.
"When you have little kids and you're parading around the house at that hour, you try to tiptoe around as much as you can, but sometimes you make a little noise and sometimes there's a strange, often naked 3-year-old in your house,'' Geist said. "I said, 'What are you doing?' (He said) 'I'm a naked guy.' I put him back to bed with the nuggets. I'm not sure what happened after that.''
Geist also talked with Leno about his infamous kiss with Al Roker on TODAY. 
The smooch happened during a Valentine's Day segment about lip balms, one peach and one cream, that combine when lips lock.
"I wasn't going to kiss this strange woman who was showing the segment, so I decided to kiss Al,'' Geist said.
Leno then showed the "raw footage" version of the kiss, a digitally-altered parody of Geist and Roker furiously making out.
"I thought we had gone to break at that point. I didn't know the camera was still going,'' Geist joked.
Read more: 
TODAY ladies take on senior basketball phenoms