You may know him as co-anchor of either TODAY's Take or, if you're an earlier riser, MSNBC's Morning Joe. But there was still probably a lot you didn't know about Willie Geist until now.
After hosting his first live Facebook chat on Monday, we learned Willie has a penchant for exaggeration (1,000 cookies in one sitting?), has a soft spot for Puerto Rico and a wide range of guilty-pleasure TV shows. 
We also learned he's indeed very, very tall.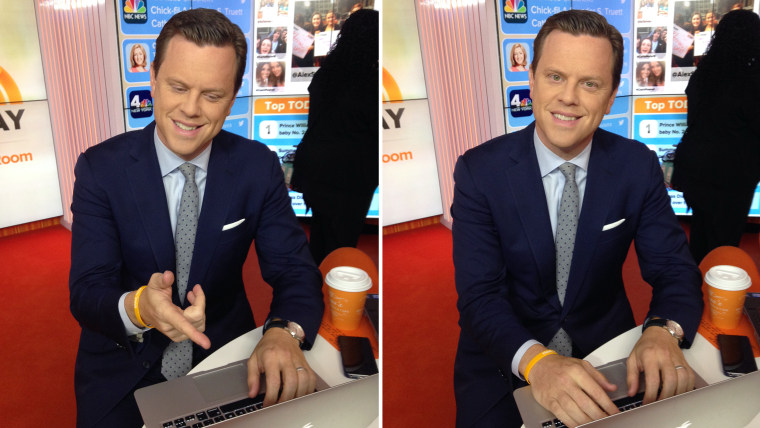 Here's what Willie revealed in his chat:
1. He knows his John Singleton movies.
Beth Schilling Hedges: Something surprising we may not know about you Willie.
Willie: There was a time in my life where I could recite every line of "Boyz n The Hood" word for word. The movie, that is.
2. He roots for the home team.

Rebekah Lynch: What is your favorite NFL Team?

Willie: NY Giants. Big one tonight: 27-23 Giants in Detroit.
3. He wears a wristband in honor of his father, journalist Bill Geist.

Dianne Eller:  What is the yellow wrist band stand for?
Willie: It's an orange one and it's for the Michael J. Fox Foundation. My dad has Parkinson's Disease and the MJFF does incredible work fighting it. Thanks for asking.
Amy Lyman Sweetman: What's your favorite moment with your dad?
Willie: Well, on Saturday we had Family Olympics, and my dad was the victim in the old game "Wet Grandpa." He put on a garbage bag, sat in a chair, and 20 people unleashed a barrage of sponges at his melon. That was pretty great.
4. There's one part of his daily routine he likes to carry into the weekends. 

Cathy Jane Maupin: How do u feel about putting on makeup every morning for the show?
Willie: Not my favorite part of the job, but it has heightened my empathy for women. This stuff is heavy and unpleasant. That said, I do like to wear heavy studio makeup on the weekends, just to be consistent.
5. He loves being a dad to his two kids, even though his parenting skills may come across as suspect.

Rebecca Chumley: What is your favorite thing of being a parent?
Willie: Something different every day. Last night, on First Day of School Eve, it was my 7-year-old daughter crying because she was "too excited" about school, and in the adjacent room, my 5-year-old son singing in the dark, at the top of his lungs, "I'M WALKIN' ON THE SUNSHINE!... AND TRYIN' TO FEEL GOOD! HEY!" I have no idea where he learned that song.
Rhonda Corns: Willie, how do you plan a romantic evening with your wife?
Willie: Drop the kids off at the local Dave and Buster's with a bucket of tokens and head out to dinner!
Brandy Rabon: What do your kids think when they see dad on TV?
Willie: My kids could not possibly be less interested in my television career. My wife tries to turn us on for a few minutes in the morning and she faces a revolt every time.
6. His favorite television shows run the gamut.

Erica Williams: What's your favorite show on TV right now?
Willie: I love "Veep," "Ray Donovan," and the "Bubble Guppies" are having a strong season.
Kathy Raupers: What would be the next job in your career you would want to do??
Willie: Host of the all new "Card Sharks." I like a game with a simple premise: Guess, based on no information, "Higher or lower?"
7. His musical tastes also vary widely.

Christopher Sadler: What was your favorite band growing up?
Willie: I was raised on the Rolling Stones, but also Big Daddy Kane was my favorite.
8. He's proud of the (nick)name his parents gave him.

Angela Brown: Have you ever hated being called Willie?
Willie: My mom named me "Willie" 5 seconds into my life, and I'm sticking with it! She generally has good taste.
9. If he ever changes his mind about Willie, "Stretch" could work.

Willie Massey: How tall are you???
Willie Geist: 6'4".
10. He goes to great lengths to get his work done.

Angela Cano: What is the weirdest thing you have been asked to do professionally?

Willie: Let me count the ways... Dressing up like David Hasselhoff with a rug of fake chest hair and spray-tanned legs certainly ranks right up there.
11. He likes to return to places with sentimental value.

Norma Hernandez: If you could have the chance would you visit us in Puerto Rico?
Willie: I was married in Puerto Rico! I go back at least once a year. It's a very special place for us.
Jackie Dornellas Boyland: Do you miss Columbia, SC and boiled peanuts?
Willie: Love Columbia, SC. I'm going to Nashville next week for the Vandy/USC game. Please go easy on us.
12. He has a sweet tooth for specific treats.

Herlean Younce: What is your favorite dessert?
Willie: I could eat 1,000 Entemann's cookies if you put them in front of me. One thousand.
13. We still don't know how he broke into the industry. 

Jennifer Beausoleil Abramek: How did you get your big break on today?
Willie: I think it was a scheduling error years back that no one has caught yet. Please don't tell anyone.