Natalie Morales wakes up every morning at the crack of dawn for her job as a TODAY anchor, and her schedule doesn't leave a lot of time for a leisurely breakfast. So how does she get her energy in the AMs? The secret's in her homemade green juice, which she can often be found sipping behind the scenes before she goes on air. We asked Natalie to spill what goes in her blender so you can copy her morning routine!
Hi Natalie! So, what are you drinking?
Every morning I make my "green" juice. It's not always green as I add berries or other fruits. The base ingredient is spinach or kale — I never measure, but using a NutriBullet I fill all ingredients to about the max line and add water. Usually I add frozen mango, some coconut water (about ¼ cup), and a squirt of lemon. Sometimes I add a half banana if I want a more smooth and substantive juice. 

What's in the mix this week?
I made a juice with baby kale (baby kale breaks up better then regular), cucumber, lemon juice, coconut water, ½ an apple, a sprig of mint, 1 tsp. chia seeds, frozen mango and filled it with water to the max line.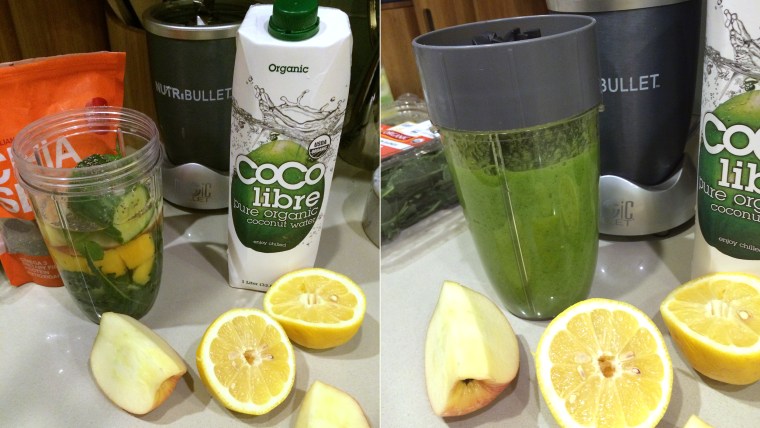 How often do you drink it?
I drink it every morning; it's sort of like an early detox for me. I can't stomach a big breakfast at 4 a.m. so this gets me through most of the show (with some almond butter toast as a snack).

Where did you make it and where do you drink it?
I make it at home before going to work, and I drink it as I'm getting ready for the show. It's my pre-show routine.