"We're gonna Skype with Al," promised TODAY tech expert Mario Armstrong during a segment Wednesday. And, like magic, there was Al backstage, smiling through the computer screen! It was a compelling demonstration of cool ways to connect with friends and family until... hold on just a minute. Suddenly, the camera shot switched and the world got a glimpse of just what Mr. Roker does in between segments.
He plays "Words with Friends!"
From the looks of it, he's got a pretty good game going: With the letters "SHWIVRA," he could go in several directions. 
Al told us he's been playing for six months and he's not addicted. He still hasn't won, he said, but feels he's got two wins on the way. He has not challenged any other celebs. Not addicted, eh? Let's just say, if we see him sprinting onto the plaza one morning, we can probably guess the culprit.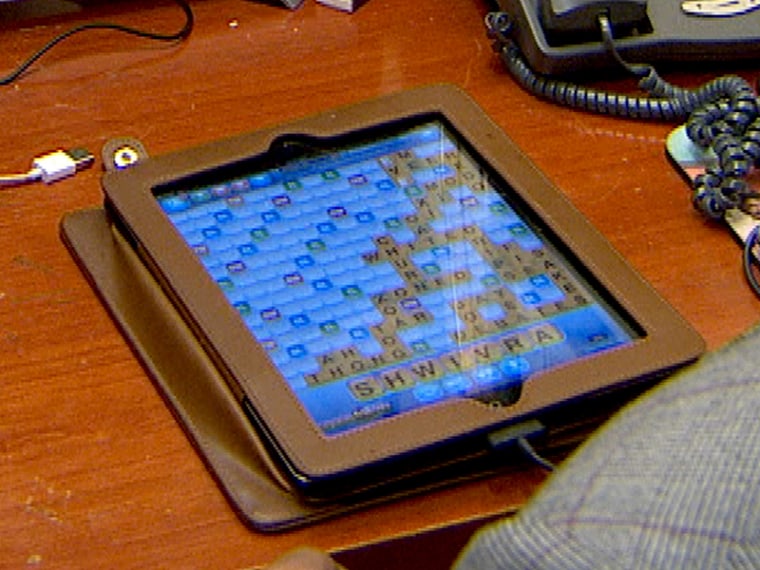 And we weren't the only ones who spotted the telltale tiles on Al's iPad: TODAY fans on Twitter were delighted by the discovery. "Looks like @alroker was playing Words with Friends lol We love that game too!" tweeted @BeckySee.
And Al might have some new match requests coming his way: "Hey Al, just saw you on Today playing words with friends," tweeted Anthony D. Sparks, @cAPEdcrusader06. "What's your username?"
Watch the video, below; Al's iPad reveal comes right around the 2:06 mark. 
Read more: 'Words with Friends' game leads to marriage
Alec Baldwin kicked off plane at Los Angeles airport
Al Roker on family drives: An 'underrated' family pastime
Amy DiLuna, TODAY.com senior editor, has incredibly smart friends, and usually loses when she plays "Words" with them. It's so annoying.