The downturned mouth, the unintentionally grumpy look, the resting scowl — it could all be a nasty case of "bitchy resting face."
A short video detailing the phenomenon, created by comedian and journalist Taylor Orci, has gotten more than two million views on YouTube and has celebrities like True Blood's Anna Paquin believing they have a bad case of BRF. The concept of BRF means that the facial features of a person's resting expression can make it look like they are upset, sad, or yes, bitchy.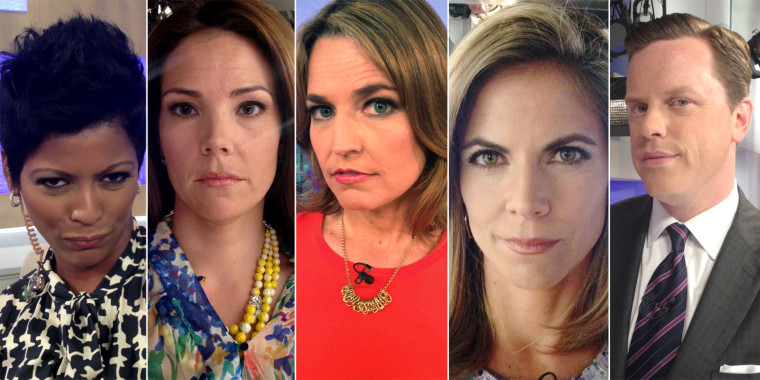 The TODAY anchors each showed off their faces at rest on Tuesday to check for any signs of BRF. Orci also appeared live with Savannah Guthrie to talk about the BRF concept, which she defined as "when people are thoughtfully sad or angry for no reason when they look like that."
"My whole life people have been telling me to smile,'' Orci said. "They've been saying, 'What's wrong?' Even when I was on the plane yesterday I was reading something, and somebody was like, 'Hey are you OK?'
"I've had strangers tell me to smile," she added. "People ask me what's wrong when I'm having a happy day. I'm not sad, I'm totally fine."

When Orci first met her boyfriend, he thought she was scowling, and she thought he had a naturally annoyed look on his face as well. The two didn't talk for a long time before discovering the expressions were just their normal faces.
While BRF isn't a medical term, having a resting face unintentionally signal annoyance, anger or sadness is a legitimate condition.
"The bitchy resting face is a real phenomenon,'' Dr. Anthony Youn told TODAY. "Sometimes we have a permanent frown when the corners of our mouth droop, and sometimes it's because our brows are a little bit decreased or a little bit low. And all these things can add up together to make us look grumpy, mean and even, yes, bitchy, when we don't mean it."
Before judging what a person is feeling by looking at their face, people should dig a little bit deeper, Orci advised.
"I think maybe we need to re-look at what a resting face looks like for a woman and just chill out,'' she said.
Some women have even had plastic surgery to try to avoid giving the wrong impression with their facial expressions.
"I think that surgery is what it is, but maybe it would be cheaper if we all just gave each other a break,'' Orci said.