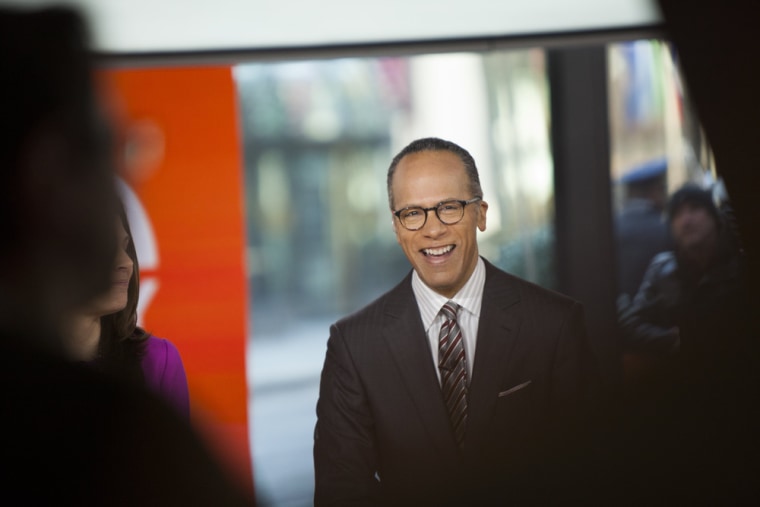 As the weekend anchor of NBC Nightly News and TODAY, as well as a host of Dateline, Lester Holt's mornings tend to be jam-packed. Here, he shares his morning routine.
When I was asked about my morning routine, my first thought was, "what routine?"
I wear a lot of hats at NBC, anchoring Nightly News and TODAY on weekends, hosting Dateline NBC, and traveling around the country during the week to shoot feature stories or breaking news. My days off are Monday and Tuesday, but often a story will require that I work on those days as well.

My weekends are probably the most predictable. On Friday nights I try to get to bed around 9:30 p.m. and log on to the computer to review the show rundown and study up on our guest segments. I aim to be lights out by 10 p.m., with the alarm set for 4:15 a.m. 
Before that, however, I go through the ritual of choosing my suit, shirt, tie, socks, cufflinks and pocket square. Everything is carefully set out or hung in the bathroom ready to go for the morning. Sometimes I will have a necktie crisis, and set out three or four of them and make the call on the fly in the morning.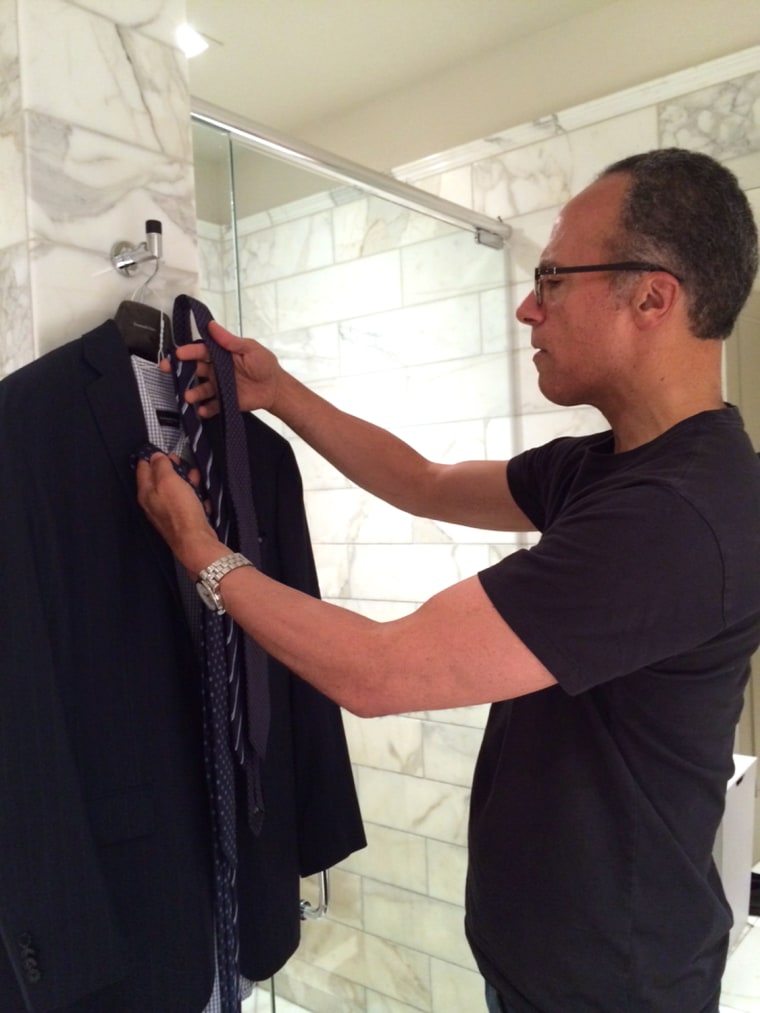 About the ties. I tend to be slightly daring with my wardrobe choices, meaning I am not afraid to mix patterns, such as a striped shirt and polka dot tie combo. It's a thin fashion line and so sometimes what looks good hanging in the bathroom the night before looks too busy when I put the whole ensemble on the next morning.
Thus I make sure to keep a couple of options handy for a last-minute wardrobe review. The last thing I want to do is dash back into the closet, turn on the lights and wake my sleeping wife.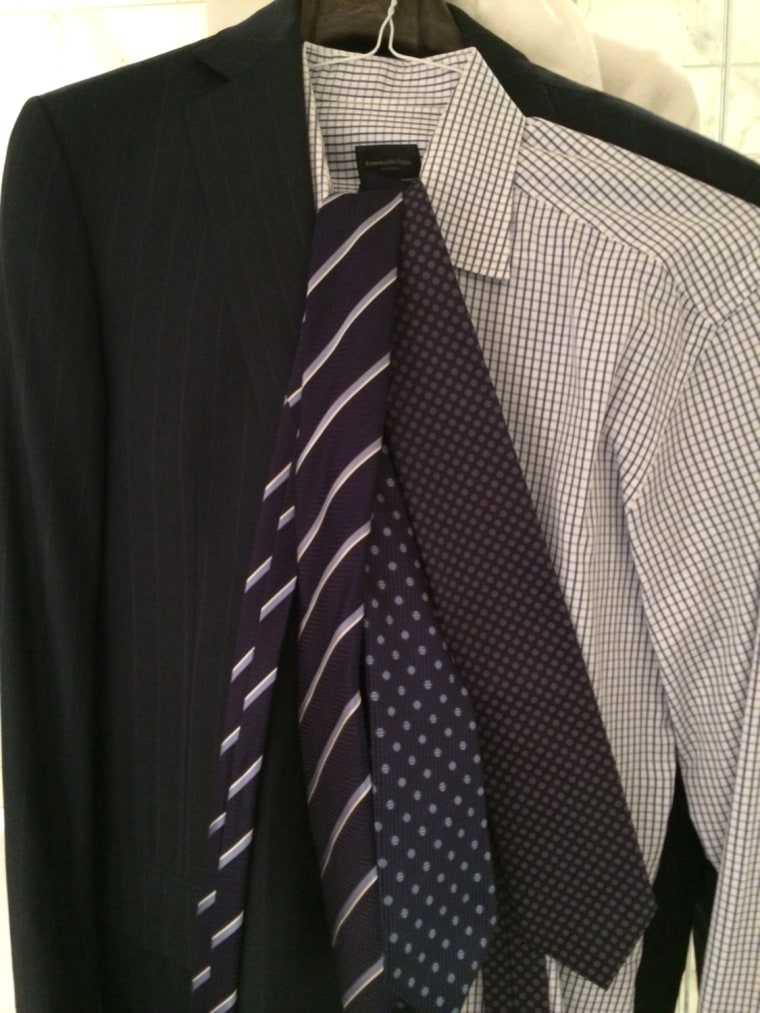 Waking at 4:15 a.m. is never a pleasant experience, but I never dawdle. I'm one of those people that can leap right out of bed no matter how tired I am. The radio is set to an oldies station, so for the rest of the day I usually end up humming whatever tune was playing when the alarm went off.
It's worth mentioning that twice in 10 years my alarm has failed to go off, because I set it wrong. While both times I got to the studio in plenty of time for the show, the first time it happened I suffered endless ribbing from my co-workers both on and off air.
And so, when it happened again just a few weeks ago, I was determined to slip into the studio unnoticed. I woke up at 5:08 a.m., 8 minutes after I was supposed to be out the door! Somehow I compressed my usual 45 minute routine into 12 minutes (minus the breakfast) and was in the car by 5:20 a.m. I carefully picked my moment to dart up the stairs to my dressing room and no one was the wiser. Until now, that is. 
At this point, I have 45 minutes before I walk out the door. My first order of business is to briefly check my iPhone and read the overnight notes from our producers, and catch up on any stories that developed while I slept.
By 4:40 a.m. I am usually showered and fully dressed, and head for the kitchen. While I am a coffee drinker I usually won't have a cup of java until mid afternoon while I'm preparing for Nightly News. In the morning my beverage of choice is a cup of green tea. It took years for me to learn to eat at such an early hour, but my Saturday and Sunday routine now includes preparing something to eat.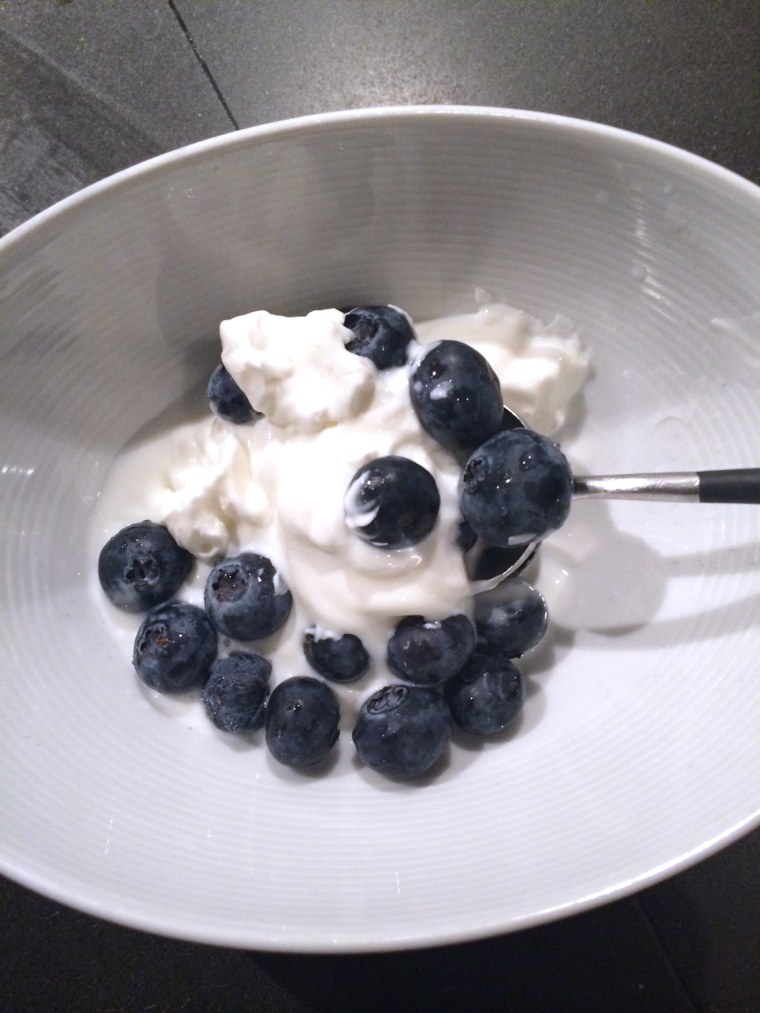 On an ambitious morning, I'll cook up an egg and sauté up some vegetables. Other mornings, a cup of Greek yogurt with berries, maybe a bowl of cereal, or even a peanut butter sandwich will do. I am now a big believer in starting the day with a protein breakfast. I feel it puts me on my game.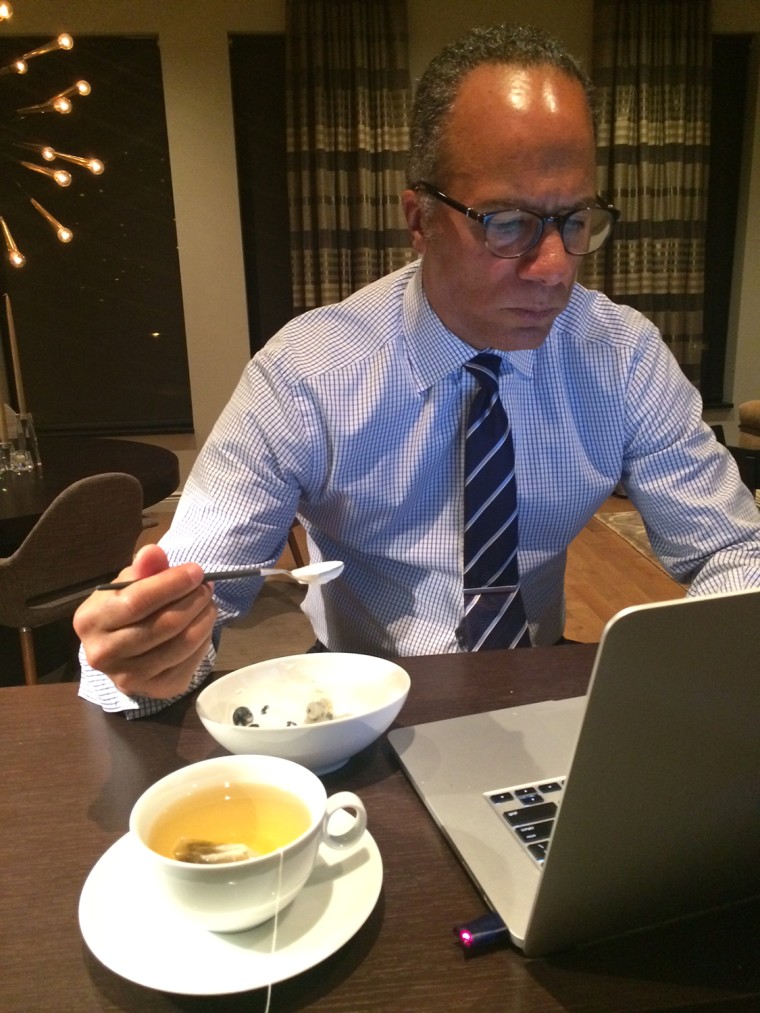 By 4:53 a.m. I'm usually eating, and scanning some of the morning newspapers on my laptop computer.
If I have my act together, I will be brushing my teeth by 4:58 a.m., and out the door at 5 a.m. on the dot.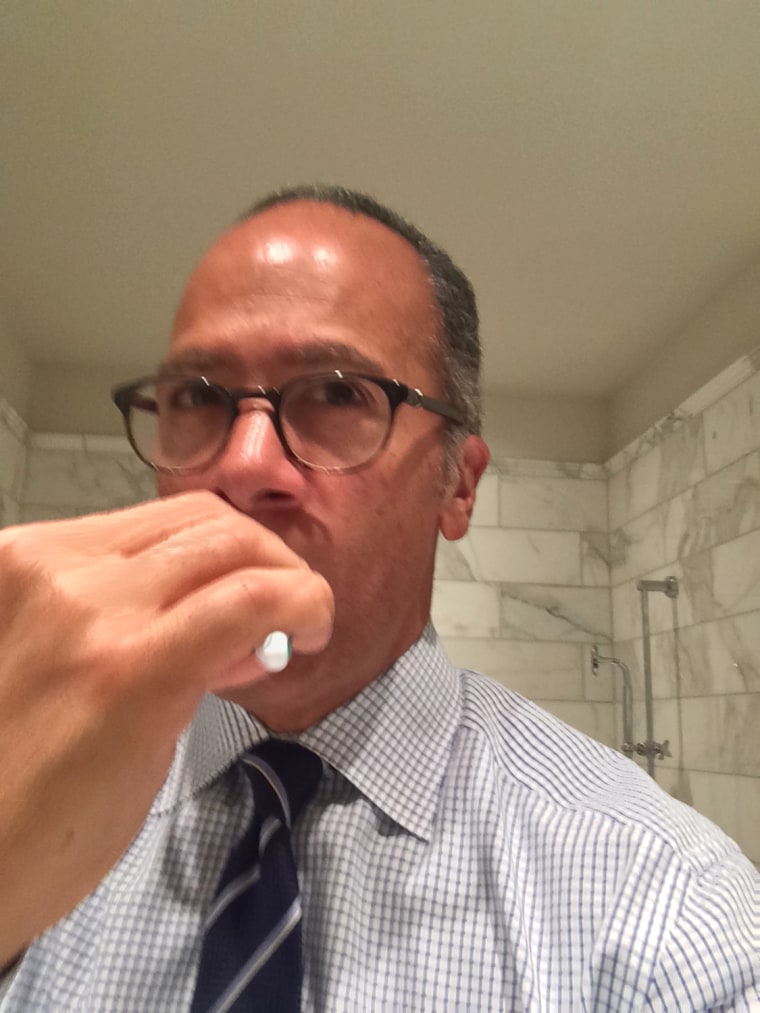 I live just a mile from the studio, but for our safety at that early hour, the company sends someone to give me a lift. During the 5-minute long ride I'll check my Twitter feed to see what's up, and to check out some of the buzz from the prior night's Dateline broadcast. Dateline has a loyal group of followers on Twitter and I thoroughly enjoy reading their observations about the stories we cover. 
When I arrive at the studio, I'll drop of my jacket off with wardrobe for a quick steaming, and then I'll head to our studio kitchen to get a full glass of water. For me, hydrating is better than coffee when it comes to clearing the cobwebs. I also make a point to talk with as many of my co-workers as possible. By the time we go on the air I can't sound like I just got out of bed, and so I'll joke around with Erica, Dylan and Jenna, or hang with them while they get their hair and makeup done.
I don't need to spend much time in hair and makeup. I'm usually in and out in 5 minutes. There's only so much that can be done with this mug.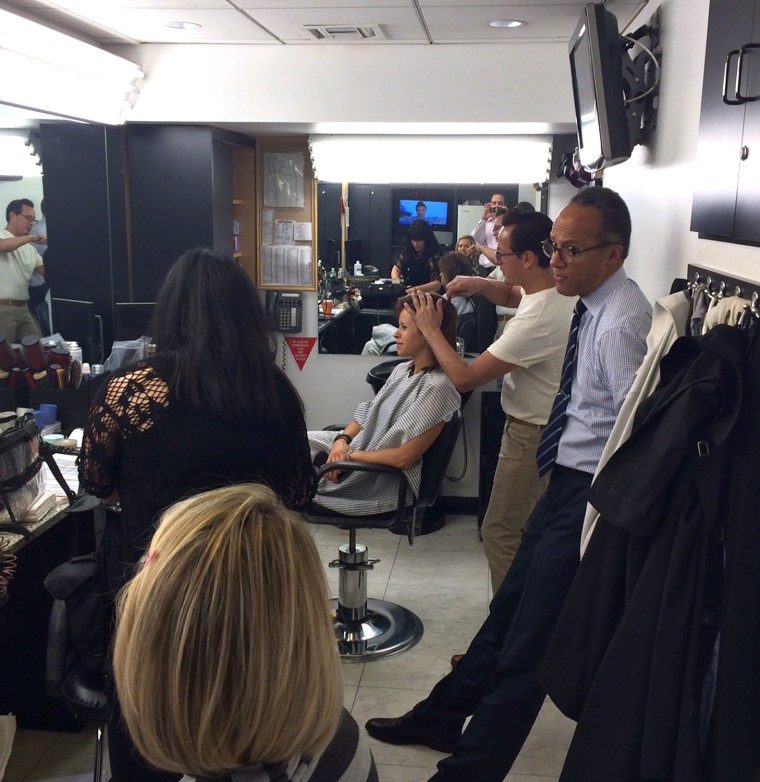 We finish the show on Saturdays at 9 a.m., but my morning routine has only begun. I'll head home for a 1 hour workout and then get on a 10:30 a.m. conference call with the Nightly News team to start sketching out that evening's broadcast.
Then it's another breakfast, and off to a nap before I start my afternoon routine.