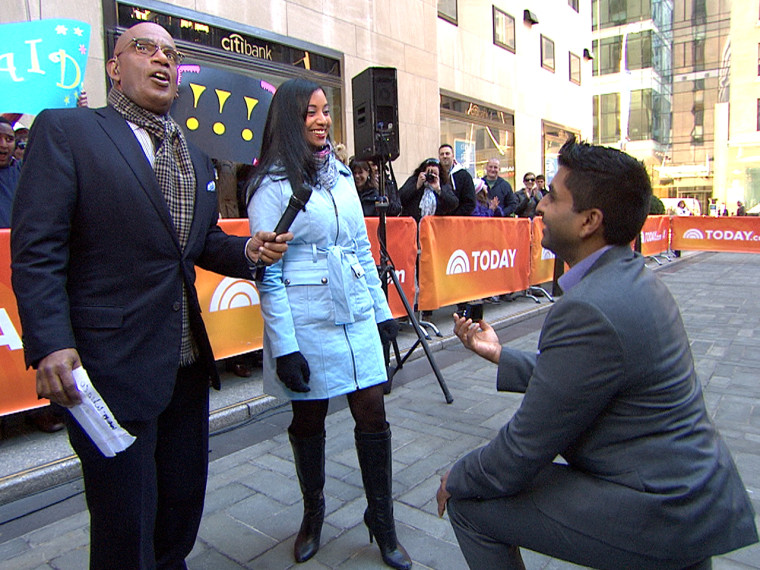 Simone Jhingoor got the surprise of a lifetime when her boyfriend proposed to her live on the TODAY plaza. 
"The proposal this morning was such a special moment for me arranged by my partner, Chirag Shah, on our anniversary," Jhingoor told TODAY.com via email Thursday. 
Jhinghoor said she was "pleasantly surprised" by Shah's proposal, and notes that he's always been there for her and her career. "I am in awe of the ways Shah always supports my vision and public service work," she said. "It is one of the reasons why I love him so much."
The sweet scene included a ruse: To convince her there was a reason she would be appearing on national TV, Shah arranged for his fiance-to-be to believe she was on the show to discuss her non-profit service work. 
Of course, there was a different kind of milestone moment in store for Jhingoor. But wait: We want to know more about her work with the Women's Housing and Economic Development Corporation! 
Shah and Jhingoor had rehearsed what she would say on TV in the cab ride to the show, so we figured she was primed to talk about it. Here's what she had to say: 
"I grew up in the Bronx and am deeply rooted and connected to the community that I work in," Jhinghoor, whose parents are Guyanese immigrants, told TODAY.com. "We are proud to be part of a growing Indo-Caribbean and South Asian community in the Bronx." 

Jhingoor has worked at WHEDco for the past year, raising money for the organization's various programs that service underrepresented communities of color in the Bronx. "Throughout my life, I have chosen career paths that align with my vision of creating the type of change that allows under-served communities of color to thrive and supports women's empowerment," she said. "As a fundraising professional, I am thrilled to give back to my community through my work with WHEDco…and an organization that I co-founded in 2007, Jahajee Sisters, that engages Indo-Caribbean women in community organizing efforts to create a more safe and equitable world."
WHEDco is chiefly concerned with helping families in the South Bronx access affordable housing, stable jobs and youth programs, and has spearheaded a number of initiatives in the area, like Urban Horizons, a housing and economic development project and Bronx Commons, an apartment development that is expected to break ground in 2014. 
For Jhinghoor, the organization's focus on helping women find success is particularly important. "I have been working with WHEDco for the last year and in that role, I raise money for our programs and get the word out about successes that I see: women becoming entrepreneurs and starting their own businesses, students getting into competitive high schools and colleges and artists having a space to share in a vibrant arts culture," she said.