What's TODAY anchor Savannah Guthrie's biggest fear? That would be frogs.
"I didn't know it until I did a TODAY show segment with them," she told Ladies Home Journal for the "In My Words" column of the magazine's November issue. "I was stricken with terror to the point of tears."
Guthrie also opens up about another unpleasant on-air experience, in which she participated in an obstacle course that entailed plunging into a bath of ice water, crawling through mud, and scaling a half-pipe ramp. It took her five tries, she told the magazine.
Frogs, obstacle courses and early morning wake-up calls aside, Guthrie loves her job — especially the opportunity to rib co-anchor Matt Lauer.
"We're close colleagues and good friends," she told the magazine. "He can be a relentless teaser, but I give it right back. He's like the other older brother I wish I didn't have."
Matt isn't the only colleague who enjoys teasing Savannah: She says Brian Williams likes to compare her to Mary Tyler Moore.
"My heel will break off my shoe, or I'll run into things. I can be klutzy. But I think that's such a cool compliment. Who doesn't love Mary Tyler Moore?"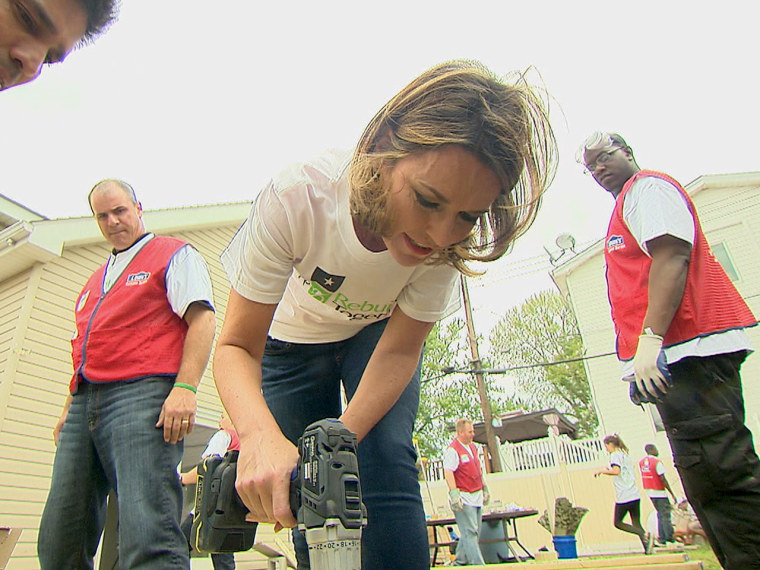 When not on the job, Savannah revealed she can be found running down the West Side Highway listening to Carly Simon or volunteering. Her most recent volunteer effort was with LHJ and Rebuilding Together to help fix up homes devastated by Hurricane Sandy in Gerritsen Beach, New York. "So many people are still dealing with the aftermath of Sandy," she said. 
What you won't find her doing is spending hours and hours planning an extravagant wedding with fiancé Michael Feldman: "We want a small, personal wedding."