Savannah Guthrie loves her job as TODAY co-anchor, but the self-professed "legal dork" says she sometimes misses her former job covering court trials.
In her latest Facebook chat Wednesday, the newlywed and new mom gushed about her baby daughter, Vale, as well as her colleagues (don't believe those rumors!). Savannah also described what she does when she goes off air, the one big interview she still hopes to land, and what superpower she would love to possess.
Here's the latest we learned about Savannah:
1. It's tough being a working mom, but she's grateful for her fortunate circumstances.
Kathy Peitzsch Khajeh-Noori: What has been the biggest challenge in going back to work as a new Mom?

Savannah: Missing Vale so, so much but I watch her on a little camera in her crib — and I race home in the afternoon to her and spend the rest of the day loving on her.
Heidi Hall Pedevilla: Do you bring Vale to a daycare or have a nanny? I'm going back to work on Monday and am already crying at the thought of someone else seeing all of her 'firsts'!

Savannah: I have a babysitter and feel incredibly blessed to have her.
Debbie Boukal Cole: Do you ever wish you could stay home with you baby?
Savannah: Of course. I think every mom feels that way sometimes. But I've been very, very thankful lately for this particular job. I start early in the morning (3 am!) but I am usually home by noon and get my whole day with her. By the time she wakes up, half my work day is over! So it works
Faithe Taylor-Worrell: Is Vale going to get a brother or sister? 
Savannah: Oh, if we were so blessed I would love it. But remember I'm 43!
2. She loves her co-workers and "would trust ALL of them" with Vale.
Jenny Rankin: Are you and Natalie and Matt friends outside of work? You three always look like you have a great time!!

Savannah:  YES! We do. Especially when the wine starts flowin...!
Doris Brooks Reedt: Do all the anchors get along or is it simply a facade? You know how the rumors fly!

Savannah: I hate those rumors. Trust me, we really enjoy each other and care for each other. It's a close-knit group and we've been through a lot together.
Michael Leichman: Are you all really as close as you seem, or do you sometimes have conflicts with your co-workers? Is it difficult when someone subs - Dylan, Willie, Tamron? Does it change the daily dynamic? You all seem so great. Love the show!!!

Savannah: Honestly, we have a great time together. I think it is fun when someone is filling in because it is a new dynamic. But we're always happy when we're reunited (like the old Peaches and Herb song — it feels so good.)

3. She doesn't miss her former career as a lawyer, although it's incorporated it into her "Plan B."
Peggy Gawiser Shecket: We love you. Our question is: do you miss your work as a lawyer? Love seeing little Vale. Thanks for sharing her with all who are your fans.

Savannah: Great question. I don't miss being a lawyer but I loved covering legal issues — trials, the Supreme Court etc — so I'm always happy when those stories come up on the TODAY Show. It combines my two professional loves: Journalism and the law.
Jenifer Minardi: Which is the more difficult work schedule, law or journalism?

Savannah: Depends on the job. Most lawyers I know work CRAZY hours. I worked some bad hours as a lawyer but nothing compared to the hours when I was WH Correspondent. Every day was a 14-hour day. And usually worked weekends too. But it was great experience.
Lara Arcas: If you were not a TV host what would you be doing?

Savannah: The boring answer is I guess I would be a lawyer? The dream answer is — I would be a folk singer on the coffeehouse circuit singing my heart out

4. She was a problem tenant during law school.
Madelyn Spirnak: I believe when you were in law school you were one of the women who rented my DC condo while I was overseas. Do you have fond memories?
Savannah: Really?!?!?! How funny. I lived with three other girls. I hope we left it in good shape. Was this the condo where we had a small-ish fire? 
(It was! But Madelyn said the condo "was in good shape" when she returned and now actually lives in it.)
5. She misses her former beat covering court trials.

James Bradshaw-Kirsten Stanley Bradshaw: I've been a fan of you since your Court TV days. Do you miss being an attorney? Would you like to go back and be in the legal field again?

Savannah: Oh I love Court TV viewers! We share a passion. I do miss covering trials. I had the best time when I covered trials full time. It's just so fascinating and I loved learning everything about a case, thinking about the evidence and the arguments etc. I'm a legal dork at heart.

6. Her husband is the best. (Well, we already knew that one.)
Mike Feldman: How do you continue to impress and amaze me? #love
Savannah: okay you are the sweetest ever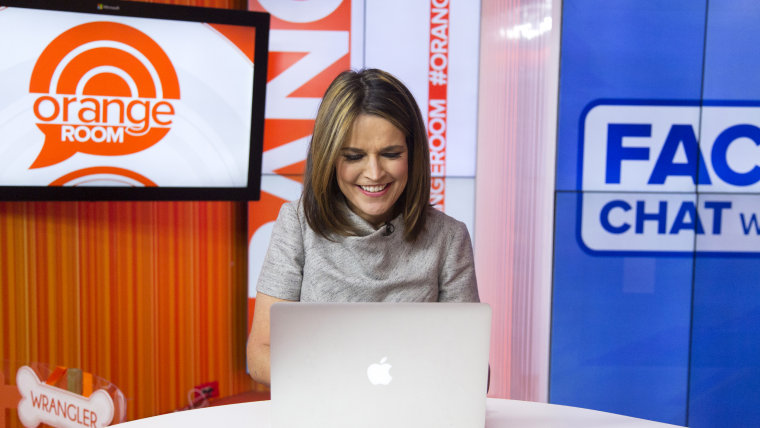 7. She follows the "early to bed, early to rise" philosophy.
Mary Crosby: What time do you get up in the am and what time to you go to bed?

Savannah: I get up at 3 am every day. And this is so embarrassing — but I go to bed at 8. I put Vale down and then I'm not far behind her!
Monique Malley-Templeton: When you get off air, do you still work on stories? What is your day like?

Savannah: I do! We do meetings for the next day's show right after the show. and a lot of times I am making calls trying to book future interviews, or studying for an interview I have coming up etc. We also have a lot of shoots after the show. It's busy, but fun
8. If she could possess one superpower, it would vacillate between freezing time — and freezing weight gain.
Kirsten Konder: If you could have one super power what would that be?

Savannah: Power to freeze time so I could enjoy these moments with Vale forever. then again, I am so excited to see her grow up. (Asked the same question later: Getting to see Vale's whole growing up and pausing, rewinding and maybe some fast forwarding during those teen years — ha ha.) On a shallow note, I'd like to have the superpower to burn calories even while sitting on the couch eating Doritos.
9. Every morning, her naturally curly hair gets straightened.
Karen Regan: I love your hair! Do you do it everyday, yourself?

Savannah: OMG bless you for saying that. I don't do it myself, thank goodness. There is a nice gal who blows it dry every day and gets it to look normal. You should see when I do it!!!
Lou Ann Roth: So is your hair naturally curly?

Savannah: Yep, well, wavy. Like messy frizzy waves
Kathie Brennen Mras: After Hoda's story.....Will you let your hair go natural one day for the show?

Savannah: Hmmmmm I guess I would think about it. But trust me, it ain't pretty

10. There is no secret for getting her pre-pregnancy figure back.
Julie Lawrence Welch: How did you get your post baby body back to normal so quickly?

Savannah: Ok, now you made my day. The truth is I don't feel the same and the scale confirms that I am bigger. But I'm trying to eat more healthfully and try not to be too self critical. I am happy I've come as far as I have since I gained 42 pounds!!!!! Also I just hate exercise and can't force myself.
(And asked again later): I think it just takes time. Sometimes I get frustrated about it but then I think Vale is worth every pound. One thing I had to do was no more drinking a glass of wine on weekdays!!

11. She still hasn't landed the one big interview she spoke about during her last Facebook chat.
Jennifer L. Stuntz: You have had a great number of amazing interviews, if you could interview ANYONE that you have interviewed yet, who would it be and why? 

Savannah: Right now I think the Pope is one of the most interesting interviews out there.
Blair Ackerman: Who has been your favorite interview ... And what has your most memorable story been

Savannah: Covering 9.11 as a local reporter in Washington DC was incredibly heartbreaking and moving.

12. If she had her choice, she'd spend all her vacations in sunny spots on the sand.
Carolyn Baile: Beach or Mountains? I love both and struggle when I have to pick a vacation spot.

Savannah: I think I pick beach, but only because I grew up in a desert — the novelty hasn't worn off.
Kirsten Konder: Where is one place in the world you would love to travel?

Savannah: I have always wanted to go to Bali or one of those Thailand beaches. and I was born in Australia and would like to go back and visit.

13. And the one random question:
Kirsten Konder: Have you ever milked a cow?

Savannah: Um no. But I have briefly touched an udder.

Check out these other Facebook chats.