I started running as an exchange student in high school with my host sister, Anne Claire, and host dad, Jean Louis. I was slow and awkward, but I managed to keep up.
In college, my roommate Charlie and I would bundle up and run the streets of Boston, making our way along the frozen Charles River as a biting wind defied us to keep going.
Home for the summer, my friend Nell and I would finish our shifts at Lenny & Joe's Fish Tale, more than a little greasy and sweaty, and pound out a few miles along the water before meeting friends for a beer.
No matter where my life took me, I would run, almost always with a friend. I logged miles in San Francisco, Atlanta, New York. Running became my go-to exercise not just for a quick workout, but also to clear my head.
Yet despite running for more than 20 years, and having completed two full marathons, I've never considered myself a runner. "Runner" felt serious, like someone who knew what they were doing...someone who was good at this sport...someone who was fast and athletic. Calling myself a "runner" made me feel like a fraud. Until, that is, my friend Vinnie invited me to join a Facebook group called OutRUN 38.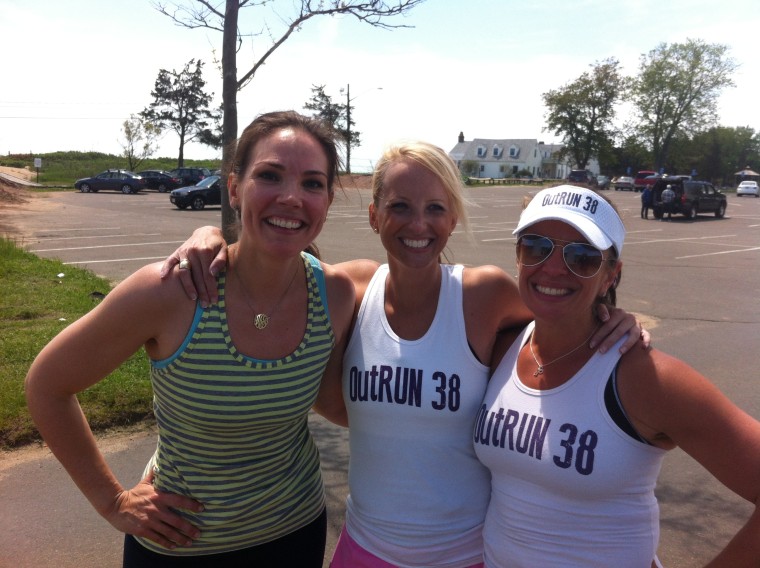 OutRUN was started in April by Nicole Burke, an old friend of mine from those college summers at the Fish Tale with Nell and Vinnie, in honor of her childhood friend — and my friend from summer camp — Liz Shuman. Liz had inspired Nicole to get healthy when the two reconnected a little over a year ago. It's hard for Nicole to lace up for a run without thinking of Liz, and how she helped turn her life around. 
Inspiring people is something Liz does every day, with every breath. As one of 30,000 Americans living with cystic fibrosis, most people wouldn't imagine Liz as a runner. The genetic disease causes excess mucus to build up in the lungs, trapping bacteria and inviting infection. A simple breath is a challenge, let alone a long run. Yet Liz has never let her CF stop her. I remember our mutual friend, Kim, pounding on her back at summer camp to help loosen the mucus. I'm pretty sure Liz smiled through it all, as we sang songs from "The Little Mermaid" between coughing fits. She's the kind of person who radiates warmth and joy, and makes you want to be a happier, better person. 
When Liz was in the hospital in April with a lung infection (again!), Nicole was thinking of her friend as she ran, silently thanking her with every step for her friendship, her positivity, the way she had motivated Nicole just by being Liz. Nicole wanted to show Liz how much that motivation meant, and how much SHE meant to so many. She thought about dedicating her miles to Liz, and to her daily battle with CF. It was the beginning of OutRUN 38.
What started as a small Facebook group of Liz's friends quickly grew into a movement that champions friendship, healthy living, awareness and a cure for CF. On day one, more than a thousand people joined the group. Today, more than 4,000 people are members, logging the miles they run, walk, bike and swim for a woman most of them have never met, and likely never will.
The initial goal was simple: Log a collective 3,800 miles in time for Liz's 38th birthday this fall. When she was diagnosed with CF at age 7, the average life expectancy for CFers was 12. Twelve years old. Not long ago, it rose to 37. Liz is outliving and outrunning those odds every single day. And all of the OutRUNners — myself included — are determined to to be there when she crosses the finish line at her cure party.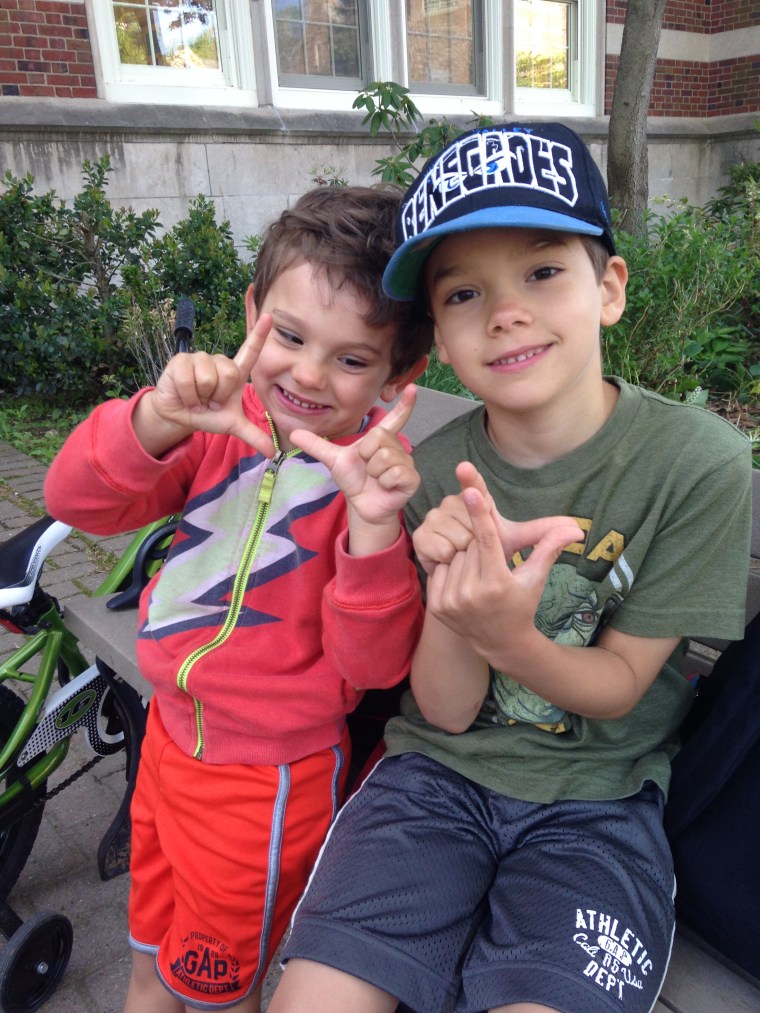 When I joined OutRUN, I had no intention of telling this story on TODAY. I had just decided to train for my third marathon, in honor of my late father. I was in a bit of a fitness rut, and this seemed like a great way to get my butt out of bed in the morning. I had no idea OutRUN would completely change my outlook on fitness, and on life. No idea that it would strengthen the bond my sister, cousin, Mom, aunt and I share by uniting us in this quest to log our miles, and to be a part of something so much bigger than any of us. Nor how it would encourage me to tell my children WHY I get up at 5 a.m. to run and what it means to me. 
Before OutRUN, I hadn't spoken with Liz since middle school. I'm guessing the last time Nicole and I saw one another was more than 15 years ago. We weren't even Facebook friends. And, remember, I wasn't a runner. Two months in, all of that has changed. With each step on those early morning runs, when the sun is still rising and each day is full of promise, I have a a new purpose. 
I am running for my friends. 
I am running for my family. 
I am running for my health. 
I am running to remind the world we can outrun the odds. 
I am running because I AM A RUNNER. And, more importantly, I am an OutRUNNER.
I put one foot in front of the other for all the people who cannot. Even after the most sluggish, difficult run, I celebrate those miles as a step toward a cure for Liz and all the other CFers. I am focused on that finish line, the one you'll find at Liz's cure party, when we celebrate an end to CF, and a future of growing old and gray.