They did it! Natalie Morales and Jenna Bush Hager took the plunge. 
The dynamic duo fell 200 feet off a Colorado cliff, reaching speeds of nearly 100 miles per hour as they rode the Terror-dactyl at the Cave of the Winds. 
Their only support: holding each other's hands (and some of the most advanced human technology around).
WATCH: Natalie and Jenna's heart-pounding ride

"She was shaking like a leaf," Natalie said of Jenna — who spent much of the ride screaming "mommy" and "hallelujah." Savannah Guthrie pointed out Jenna's screaming started before the ride had even moved an inch.
WATCH: JBH on 'Terror-dactyl': I took it like a little girl
"I'm just happy I didn't wet this seat," Jenna joked. 
Gallery: Check out behind-the-scenes images from Natalie and Jenna's jump
Earlier, the jump was slightly delayed due to difficulties with sensors. Engineers checked the ride, and GM of Cave of the Winds Grant Carey confirmed that "technically there was no problem." 

Now that you've seen it, would you go on the ride? Tweet #NoFear or #NoWay. As of 8:30 a.m., 49 percent of our viewers are brave, while 51 percent say they'd prefer to watch from the ground.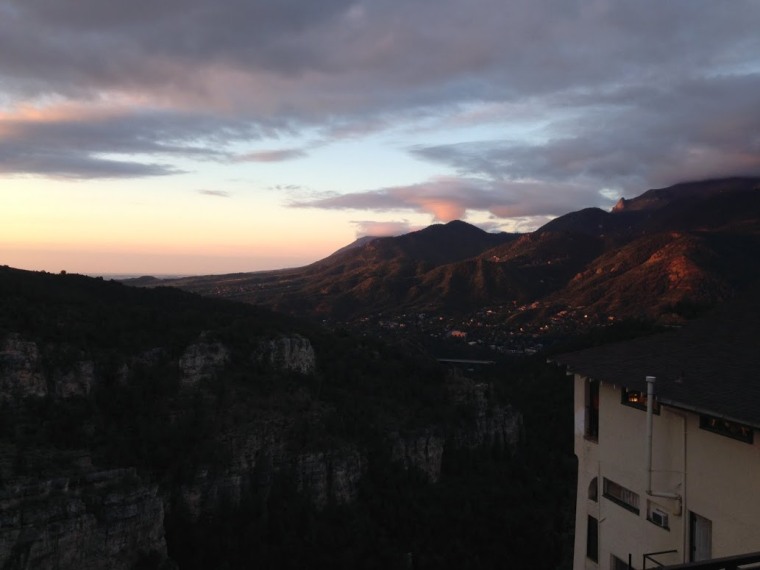 Natalie and Jenna checked out the cliff Wednesday — it wasn't exactly the "girly adventure" Jenna thought she would go on with Natalie. 

The Cave of the Winds isn't the only amazing part about Colorado Springs. The quaint, beautiful city is full of friendly faces, nostalgia and an unreal landscape of lush valleys and mountains. 
Colorado was Natalie's second stop for TODAY Takes Off. Stay tuned to find out the next destination for the series.