TODAY anchor Natalie Morales has come a long way since the days when she reported in the Bronx, driving around and schlepping her own gear to story locations. When she got the job, she'd never even been to the Bronx before.
"I didn't even know where I was going," she told TODAY producer Feliciano Garcia on NBCLatino.com's Cafecito, which is celebrating Hispanic Heritage Month. "That was the best education I could possibly have."
Little did she know that less than two decades later, she would be covering an event that captured worldwide attention: the 2010 rescue of 33 trapped miners in Chile. 
"That was the most incredible experience," she said. "I still think if there was a defining moment in my career, perhaps it was that moment."
Morales' fluency in Spanish proved essential during her time in Chile, as she was one of the few reporters there able to communicate with the miners' family members and bring their individual stories to a larger, English-speaking audience. She still remains in contact with some of those families, she told Garcia.
"It's my favorite story, because it's so uplifting, it's so inspirational to see a country come together, to see people come together, and to see how their families rallied together around that campsite," she said.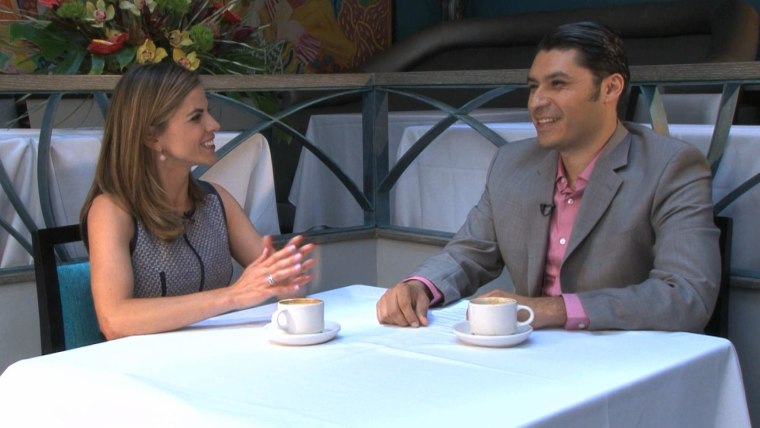 Half-Brazilian and half-Puerto Rican, Morales is no stranger to Latin America. Her father was in the air force, so Morales and her two sisters moved with their parents every two to three years. As a child, she spent time in Brazil (where she picked up Portuguese), Panama and Spain. 

"Everything from what I like to eat, to the kind of music I like to listen to, the countries I like to travel to, and, of course, just who I am, is all about those experiences," she told Garcia.
Growing up, Morales' parents prized their daughters' educations above all else. Her mother, an only child raised by her grandmother in Brazil, was the first person in her family to attend college. 
"In my family, education was everything, because they knew for both of them that's what gave them the opportunities in life they had," she said.
Check out the full interview.