Nathan Rogers and Angela Miller shared one of the most important days of their lives with TODAY fans around the country.
After nine years of dating, Rogers got down on one knee and proposed to Miller live on national TV Friday.
"Angie, I love you so much. I want to spend the rest of my life with you," he said. "I want to make you feel as special as you make me feel every day. Angie Miller, will you marry me?"
TODAY.com caught up with the happy couple (yes, she said "yes!")  just moments after the surprise proposal.
"I'm freaking out, I'm so shocked," said Miller, 37, laughing and crying simultaneously. "I had no idea. And that's unusual because normally he can't keep a secret!"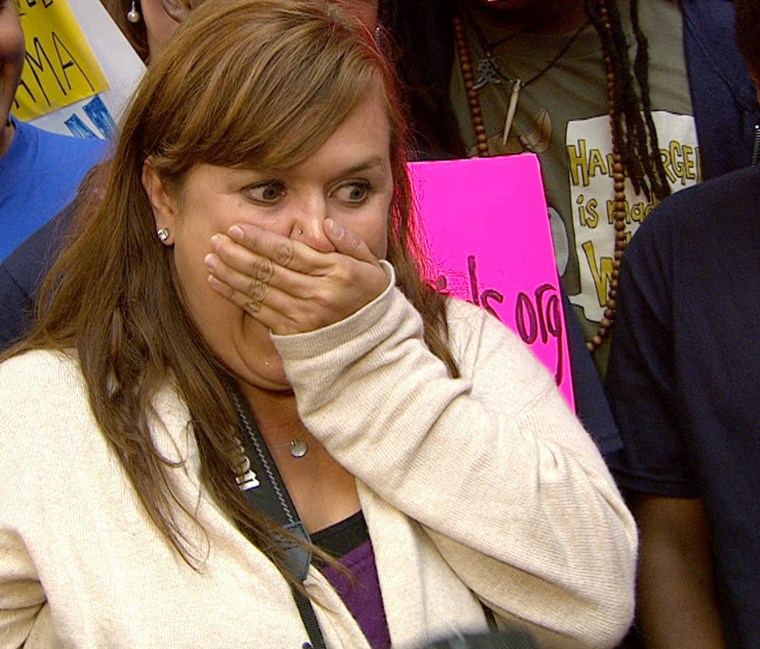 Rogers, 34, was near panic just before he popped the question, but said he was pretty confident Miller would accept. He, quite brilliantly, even had a cheat sheet for what he would say on the back of the ivory ring box. He decided to take the leap about a month ago, when the Denver couple were planning a trip to New York.
"I was originally going to do it at the Empire State Building, but then I thought, 'Wouldn't it be great to do it on the TODAY show?'" he said.
Miller has not only been a huge fan of the show for years; it turns out she has a special connection to Al Roker.
When Miller was diagnosed with cancer 12 years ago, a friend was able to connect her with Al, who sent her a care package full of well wishes telling her, "Ang, you can make it."
"That's why I have the most amazing man," Miller said. "He takes what I love and just runs with it."