Jordin Sparks wrote the following essay about her experience going makeup-free, inspired by TODAY's "Love Your Selfie" series.
When my publicist told me the TODAY Show wanted me to try no makeup week, I thought, "I do that all the time. I would love to be a part of that!" I actually go makeup-free more than I wear makeup.
When I do wear makeup, here is my routine:
Wash face (if I didn't already) and moisturize.
Mix foundations and apply foundation to face and neck.
Brush bronzer on cheeks, face and neck.
Contour and highlight.
Apply eyeliner and smudge.
Apply eye shadows.
Apply mascara.
Apply eyelashes and more mascara to blend them together.
Pick out lip gloss, lipstick or stain.
Apply blush.
I can actually do all that in about 20 minutes. I definitely have it down. Now, when I get my makeup done by an artist, it takes a lot longer. They have a lot more products and steps. And I can't sit very long, so that lengthens the time.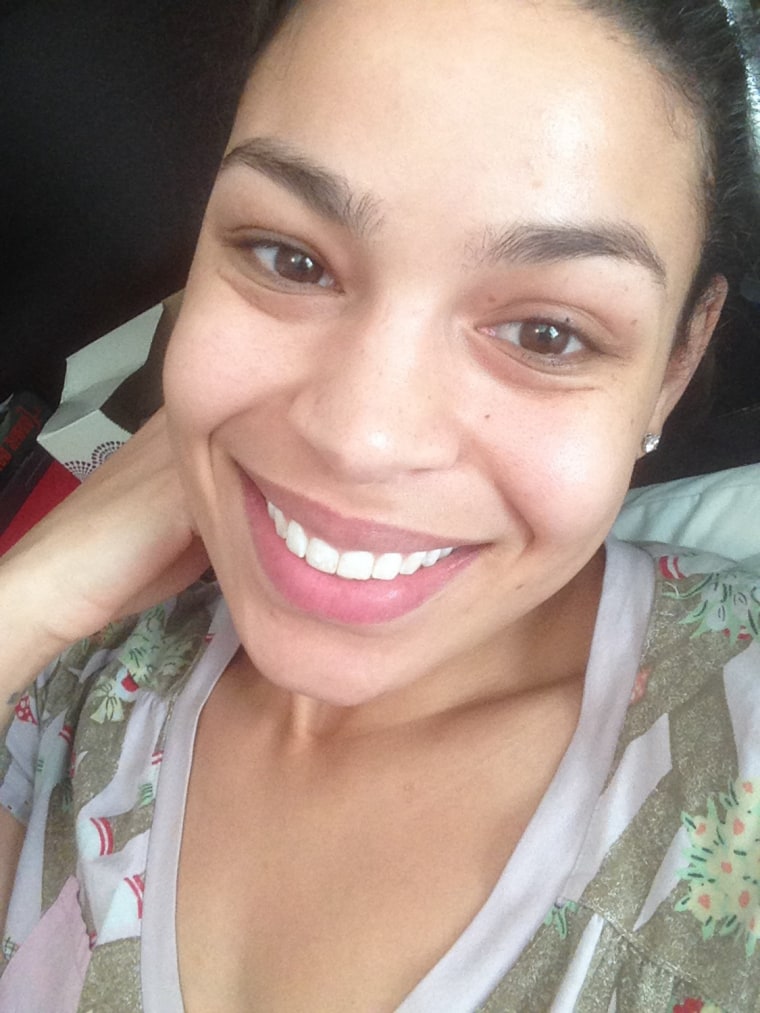 When I participated in no makeup week with the TODAY Show, it wasn't hard for me because I am completely comfortable without makeup. If my face breaks out, then I'm a little more aware. Luckily, I didn't have a break out that week.
When I went out without makeup, there were a few people who recognized me. They treated me just the same — some asked for pictures and some just wanted to say hello. And I did get compliments like, "You are so gorgeous in person!" or "You don't even need any makeup. You're lucky." 
But it was tough trying to find paparazzi. I mean really, the moment I actually want them to take a pic, they are nowhere to be found! Ha ha!

If anything, trying a no makeup week made me more confident to not wear it. I even had extra time and was able to make a dent in unpacking my house — incredible! But I'm not giving up wearing makeup completely. I do love makeup and love to play with it (I just got some more lip gloss the other day).
As women, I know it gets tough when you become used to a certain look or routine. But we should realize that we should feel comfortable and confident in who we are with or without. When I see other women without makeup, my first thought usually is, "You go girl!" I also think about how it's great for them to let their skin breathe.
I think no makeup week is a great idea and maybe we can turn it into a beauty challenge for the other amazing, beautiful women around the globe.
All week, TODAY will be exploring the issues we all face with body image on a daily basis, hoping to help you change the way you see yourself. Everyone from Cameron Diaz to Michelle Obama will weigh in. Follow the series at TODAY.com/LoveYourSelfie.
We also want you to get in on the action. Share your makeup-free photos on Twitter, Instagram and Facebook using the hashtag #LoveYourSelfie, and tune in all next week for a series we hope helps everyone feel just a little more comfortable in their own skin.