By now, we all know that Hoda Kotb has a milestone birthday coming up this week, but just how does she plan to celebrate being 50 and fabulous? With all due respect to President George H.W. Bush, it won't be jumping out of a plane, Hoda revealed Wednesday when she took over TODAY's Facebook page.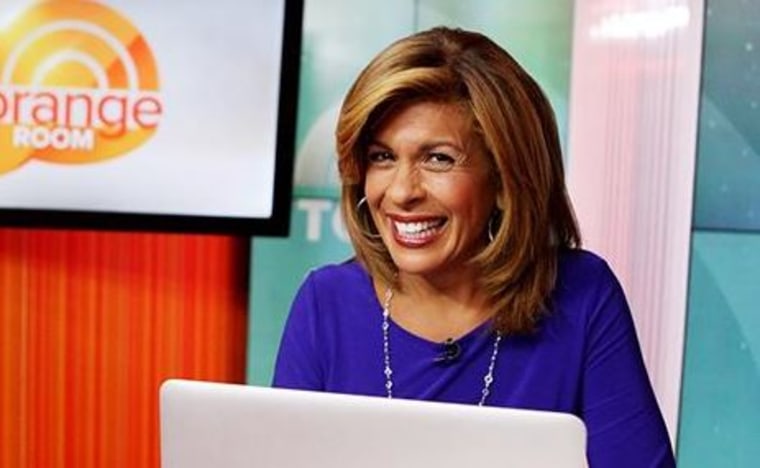 Our Fourth Hour co-host answered questions from viewers about her birthday plans, just how much alcohol she actually drinks on air, and why you should never, ever send her anything in the mail.
Here's a look at what we learned about Hoda:
On turning the Big 5-0!
Tabitha Pereira: What's been your favorite part about turning 50 so far? Do you have any specific bucket list activities for the future?

Hoda: Just started playing the guitar — 4 lessons in now...down, down, up, up, down up... loving it!

Theresa Beals: Did your heart sink just a bit when you got your AARP membership in the mail? I will turn 50 in Dec and I got mine a couple of weeks ago. I'm ok with it now lol

Hoda: the good news is — I never check my mail...so if that AARP card is in there... I have no idea!

How she plans to spend her birthday:
Mary Dekeles-Shriner: Cheers.....Happy Birthday...Enjoy..... What are u planning on eating today for your 50th birthday... From the Appetizer to the Cake.... : )

Hoda: Hey! Bday is actually on Sat Aug 9! Mom's going to make my fav cornish hens and her jasmine rice... choc cake #boom

Rose Lea: Happy Birthday! How will you celebrate your 50th? Will you skydive?

Hoda: Heck no!!! Why jump out of a perfectly good airplane xo

Her favorite spot to escape:

Debbie Stackhouse: Favorite vacation spot??

Hoda: Caribbean anywhere... love Puerto Rico.. DR.. xoxo

She really does drink on air — a little:
Angela Cano: Hi Hoda, do you really drink all that wine on TV?

Hoda:  Um yea.... but just a sip or so! We have a party atmosphere afterall xo

Patrick Mame: Happy Birthday? What's your favorite drink?

Hoda: My fav is vodka with mint lime and ginger ale. Whatever that is called

Her love for her Fourth Hour co-host:
Alaska Otterbacher: Hoda, Does Kathie Lee smell like old people?

Hoda: Only on Wednesdays lol

Cole Mccannon: Who is more crazy, you or Kathie Lee?

Hoda: Depends on the day!

Moderation in all areas of life (except coffee) is Hoda's key to looking great:
Maria Vasquez Manning: Happy birthday. Hope I look that great in three years. what is your diet like? Moderation, exercise?? Both.

Hoda: Eat way too much junk food — go to the gym to balance it out. Love those Entenmann's black and white cookies. I want one right now xo

Maria Peterson: Are you always this full of energy, even as soon as you wake up? Do you rely on coffee or is it all natural "high"?

Hoda:  An ocean of coffee in the am — and one of those healthy smoothies that taste yucky xo

Pam Ansted Uller:  Happy Birthday Hoda! What is your typical fitness routine for a week — do you do anything besides run?

Hoda: I do that stair climber that feels like actual stairs.. I hate it... but I do it! Take one for the team

On beating breast cancer:
Sandy Schumacher Garcia: Happy birthday!! Am going through breast cancer reconstruction and approaching 50. How do you stay so positive? You look great!

Hoda: I used to hate my scars... now I realize they are reminders. You are stronger than you think you are. Blessings xo

Timika King Gibson: Hoda, you seem like a very outgoing, fun, and always happy [person]...What do you feel is the most important thing in life to keep you feeling young?

Hoda: Have so many people I love in my life... feel grateful.. also after a bout with cancer.. I am happy for each day.. each and every day xo

On the person she misses the most:
Jd Sonya Jellis: If u could have one day with anyone from your past who would it be? And why?

Hoda: Another day with my dad.. he died when I was in college.. would want to know so much.. more about him...things I never asked...wonder what he thinks of me xoxo

On her next step in life:
Cindy Schlotterbeck Spessert: Happy birthday Hoda from Hagerstown Maryland. If you had to choose a different career, what would it be?

Hoda: I would be a second grade teacher... and one day I will be xo

Check out these other TODAY Facebook chats: