In this age of viral videos and rampant gossip reports, it's sometimes difficult to tell what's true and what's not. TODAY is helping viewers hone their skills with the special series Fact or Fiction. 
Savannah Guthrie presented two stories Thursday morning — one true and one false. 
It's up to you to guess which is which. Can you tell?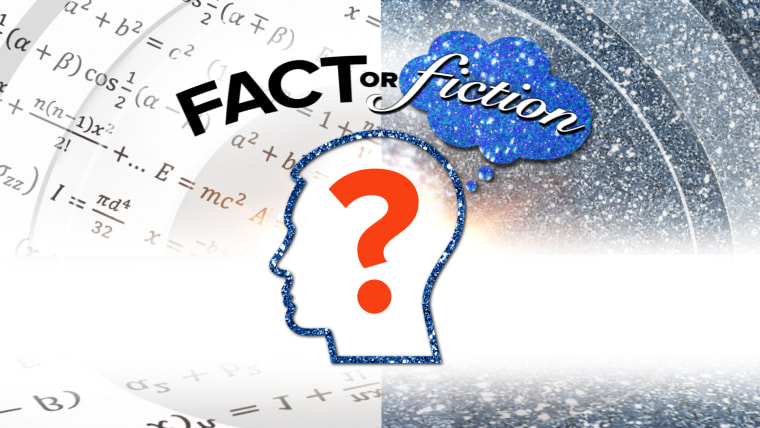 Cube Man
The Big Apple is one of the most electric and expensive cities on the planet. One New Yorker, writer Dave Rodriguez, was so stressed by the constant buzz he needed to get away. 

He found an oasis amid the chaos: The Astor Place Cube. He lives inside a city landmark thousands pass by each day. The thickness of the walls keep out sound and distraction. 
He's lived there in secret for years, but now wants to invite the world in as part of a new documentary, "Man in a Cube." Savannah was invited in for a tour.
"I was walking around outside when it was being repaired, and I took the opportunity to poke my head in and I saw how spacious it was," Rodriguez told Savannah. "I had an epiphany. ... I can live here. I look at it like a little experiment for myself."
Rodriguez doesn't have any idea if his squatting is legal, but keeps a low profile just in case. Inside, he's created a residency complete with toilet, coffee maker, bed and more. 
And after two years, now he's ready to find a real place to live. "I'm focused. I'm more productive, and I don't have to live in a cube anymore." 
If you think this story is the fictional one, tweet #CubeMan or select it in the poll. 
Balloon Guy
Joe Barbera is a man of lofty dreams. His wish? Bring his patio furniture to new heights as a lawn chair pilot.

"Everybody thought it was the stupidest idea in the world, but it stuck in my head," Barbera said. "so I made a plan to do it on my 60th birthday." 
He and his "redneck engineers" blew up 100 balloons and tied them to the chair. There were setbacks: Balloons popped, and the craft wouldn't lift. 
But then, liftoff. "It felt good," he said. 
After six hours and lifting to 21,000 feet, Barbera passed out due to a lack of oxygen. Once he regained consciousness, he implemented the emergency descent plan: "So I just pop two balloons." And he landed. 
"if you can dream it, you can make it happen," Barbera said. "Never give up on your dreams."
If you think this story is the fictional one, tweet #BalloonGuy or select it in the poll.
Spoiler alert! Savannah's fake Fact or Fiction story is...
Fact or Fiction Day 1: Is Extreme Ironing a fake story? Or is Upstart Academy?
Fact or Fiction Day 2: Is Soyle (edible earth) a fake story? Or Hoofball?