Just when you thought it was safe to go back in the water, Matt Lauer came along. 
The TODAY anchor made a slow-run through the plaza as he paid homage — in full drag, along with Willie Geist and Carmen Electra — to "Baywatch" star Pam Anderson as C.J. Parker.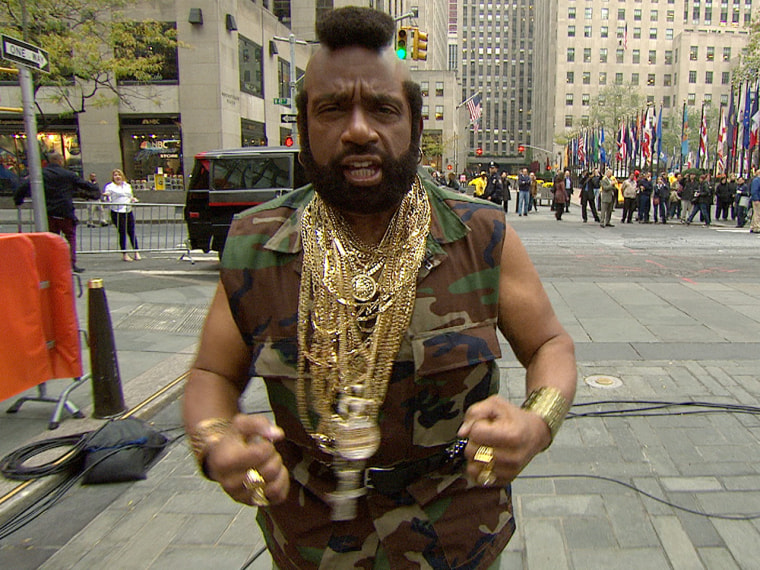 It was a Throwback Thursday Halloween spectacular, as TODAY celebrated their favorite classic TV characters. 
"Is someone drowning? I brought my cans," Matt offered as he flashed his buoys. Geist showed off some serious some chest hair to look like David Hasselhoff's Mitch as Electra joined them for beach patrol. 
"It's distractingly strange,'' Carson Daly said about Matt's costume. 
"I hope your son Jack's not watching,'' Al Roker said. 
Matt went all out to portray the blonde bombshell, right down to the well-endowed chest. 
"They're so alarmingly real on you,'' Carson said.
"They do not move a bit," Matt said while jumping up and down with his "chest" firmly in place. 

Matt had tips for any other guys planning to do Halloween in drag. 
"I want to mention if anybody ever out there wants to dress as a young lady tonight and you're a guy, and somebody in the wardrobe department comes at you with something called concealer, run for your life,'' he said. 
Al, who pities the fool who doesn't like Halloween, emerged from the signature black-and-red van as Mr. T's character B.A. Baracus from "The A-Team,'' the 1980s hit show that features Al's favorite theme song.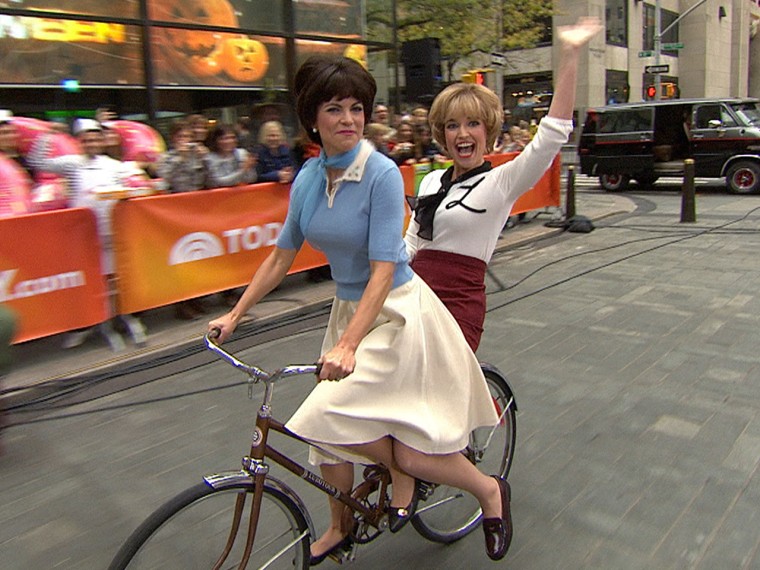 Savannah and Natalie made their dreams come true as Laverne and Shirley, while Carson paired up with former "CHiPS'' star Erik Estrada to re-create the crime-fighting motorcycle police duo. They planned on entering on two bikes, but Carson's didn't work, so he hopped a ride with Estrada.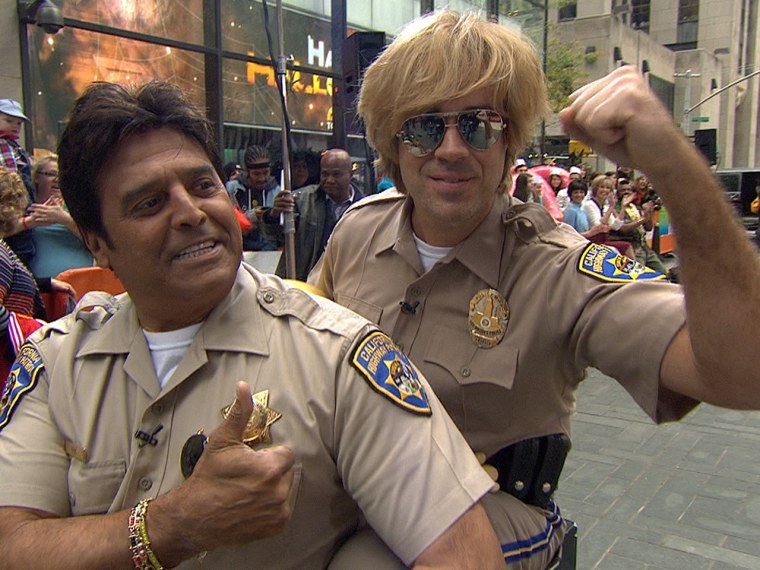 Kathie Lee Gifford and Hoda Kotb became a real-life, wine-guzzling version of beloved cartoon best pals Betty and Wilma from "The Flintstones." 

"Hey Wilma, you know what? It's 'Thirsty Thursday,' you know what that means?" said Hoda, who was dressed as Betty.
"Brontosaurus burger and a pterodactyl tequila,'' KLG-as-Wilma replied. 
Jenna Bush Hager traveled back in time to dress up as lovable 1980s tyke Punky Brewster, who was originally played by regular TODAY contributor Soleil Moon Frye.
Adding a soundtrack to the #TBT theme, Loverboy and Vanilla Ice played their hits from the 1980s and '90s. There also was a contest on Rockefeller Plaza for adults and kids with the best costumes. 
Vamping it up for Halloween is an annual TODAY tradition: The anchors recreated the royal wedding between Prince William and Duchess Kate in 2011.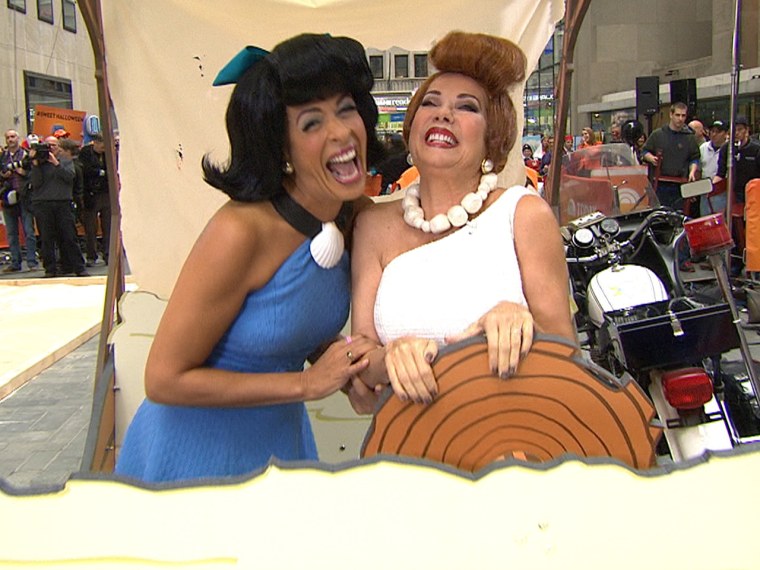 A year earlier, they dressed as pop icons, with Roker as Superman and Morales as Justin Bieber. In 2009, they celebrated "Star Wars." 

Vote on Facebook for your favorite TODAY Halloween moment!