Ann Curry is taking on a new challenge at NBC News, she announced Thursday morning. 
"Today is going to be my last morning as a regular co-host of TODAY," she said. "I will still be a part of the TODAY show family, but I'm going to have a new title and a new role." 
As TODAY Anchor at Large and National and International Correspondent for NBC News, Curry will lead a new team covering stories spanning the globe. She'll anchor prime-time specials and report for TODAY, Nightly News, Rock Center, Dateline and MSNBC, and will have a major presence across all digital properties. 
"We're going to go all over the world and all over this country at a time where this country and this world needs clarity," she said.
"After all these years I don't even know if I can sleep in anymore," she joked.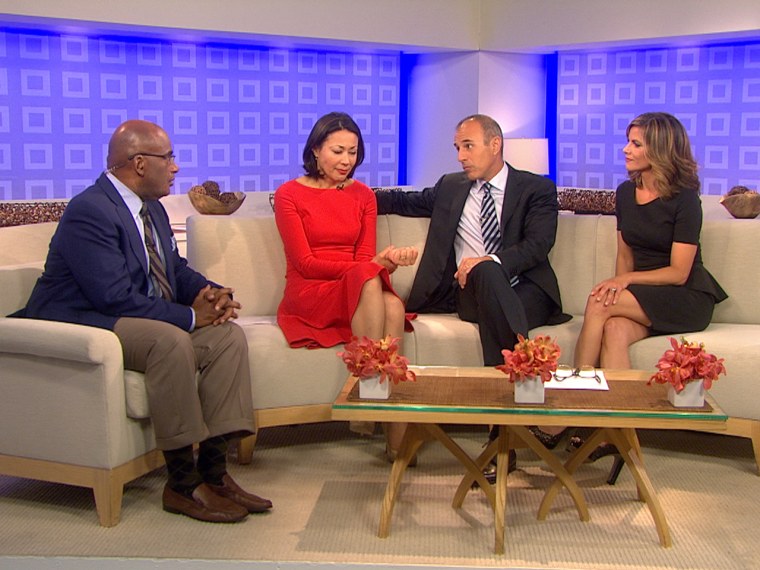 Matt, Al and Natalie expressed their love.
"You have the biggest heart in the business," Matt said. "You put that on display every single day in this studio and you have for almost 20 years on this show." 
"Most importantly, you've made us better, and we thank you from the bottom of our hearts," he said.
Watch Ann's announcement on TODAY
Natalie recalled Ann's hugely successful work on the Hiring our Heroes campaign in March. And Al highlighted another incredible event — when Ann, reporting on location in Japan in 2011, helped reunite a family separated in the devastating earthquake and tsunami, armed with a photo and a tweet. 
Over 15 years at NBC News, Ann has covered violence and ethnic cleansing in Sudan, interviewed the Dalai Lama, and broke the news that Iranian President Mahmoud Ahmadinejad would release the two American hikers held hostage in that country for two years. She has earned seven Emmy Awards.
Ann spoke directly to viewers. "Matt and I, and everyone who sits on this couch, we often call ourselves a family, but you are the real TODAY show family," she said. "You are why I have ventured into dangerous places and interviewed dictators and jumped off of planes and off of bridges, and climbed mountains and landed in the South Pole, and convinced the Dalai Lama to come live in our studio. I have loved you, and I have wanted to give you the world. And I still do."
"I know of only one journalist who in just a matter of years has travelled to Sudan six times, broken exclusive world news with top world leaders, and broadcast live from both the South Pole and Mount Kilimanjaro," said TODAY Executive Producer Jim Bell. "Ann has quite literally reached amazing heights in her career, and with this new role, she will continue her intrepid climb bringing viewers her signature brand of humanitarian reporting."
More about Ann Curry: 
The NBC family reacts to Ann Curry's announcement
Hoda Kotb on fourth hour: Ann Curry is 'fearless'
Images: Ann Curry's distinguished career at NBC News
15 top Ann moments spanning her 15 years on TODAY