Savannah Guthrie is the co-anchor of NBC News' TODAY, NBC News' chief legal correspondent and a primary anchor for the network's election coverage. She joined TODAY as a co-host of the 3rd Hour in June 2011 and was elevated to co-anchor in 2012.
Savannah has conducted a wide range of exclusive and headline-making interviews, from presidents and prime ministers to some of the most recognizable figures in the world. She has spoken with former President George W. Bush, President Barack Obama and President Donald Trump. She has interviewed former U.S. Secretary of State Hillary Clinton, former first lady Michelle Obama, British Prime Minister Boris Johnson, former U.S. Rep. Liz Cheney, former U.S. Rep. Gabby Giffords, former FBI Director James Comey and former Attorney General Bill Barr.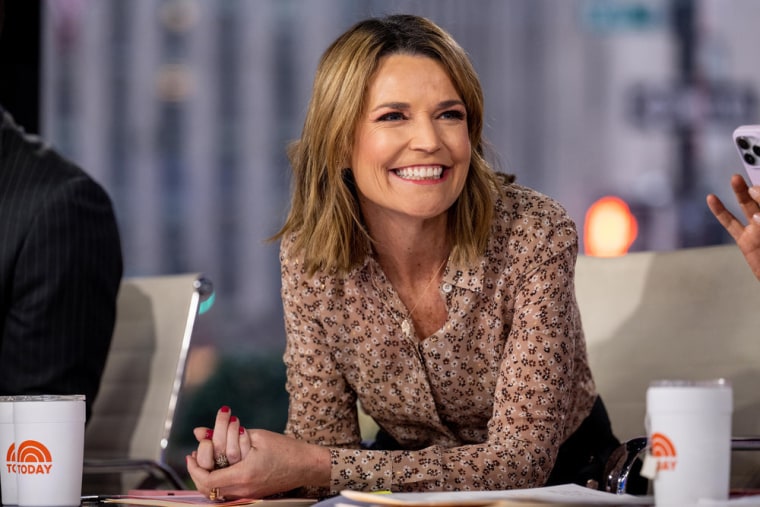 Savannah has interviewed many notable figures during consequential times including Mark Zuckerberg, Amber Heard, Monica Lewinsky and Roger Federer. She has sat down with numerous celebrities including Meryl Streep, Harrison Ford, Gwyneth Paltrow, Ellen DeGeneres, Selena Gomez and Beyoncé Knowles.
For nearly a decade, Savannah has anchored NBC News' election coverage including the 2020 and 2016 presidential elections, the 2018 and 2022 midterm elections, the 2016 and 2020 Republican and Democratic National Conventions, and five State of the Union addresses. In 2019, she moderated a two-night Democratic presidential debate, and she anchored a live townhall with Trump weeks before the 2020 election. Savannah also anchored coverage of the nominations of Supreme Court Justices Ketanji Brown Jackson, Amy Coney Barrett and Brett Kavanaugh, and the two impeachment hearings of Trump.
Savannah has covered major news events including the 2022 Robb Elementary School shooting in Uvalde, Texas, the 2018 Marjory Stoneman Douglas High School shooting in Parkland, Florida, the 2017 Las Vegas music festival shooting, the 2015 Paris attacks and the 2013 Boston Marathon bombing. She anchored TODAY from the Coronation of King Charles III, the funeral of Queen Elizabeth II, the Platinum Jubilee of Elizabeth II, and the wedding of Prince Harry and Meghan Markle. She has also anchored TODAY from several Olympics including the 2021 Summer Games in Tokyo, the 2018 Winter Games in PyeongChang, the 2014 Winter Games in Sochi and the 2012 Summer Games in London.
Her work has been recognized with the Edward R. Murrow Award, as well as multiple News Emmys including for her interview of Trump. During her tenure as co-anchor, TODAY has won a Peabody, and twice won Emmys for Outstanding Morning Show. In 2022, Savannah was inducted into the Broadcasting & Cable Hall of Fame, and she received a Gracie Award for On-Air News Talent. In 2017, she was recognized by New York Women in Communications with the Matrix Award for her excellence in broadcast journalism.
In 2018, Savannah was appointed ambassador for the Elizabeth Dole Foundation's Hidden Heroes campaign alongside actor Tom Hanks. She also serves as an ambassador for Best Buddies International, an organization she has been involved with for more than nine years.
Prior to joining TODAY, Savannah served as NBC News White House correspondent from December 2008 to June 2011, when she contributed to all NBC News properties, including NBC Nightly News, TODAY and MSNBC. While in that role, Savannah extensively covered the 2008 presidential election, traveling with Sarah Palin's campaign and was part of the NBC News team that won a 2009 Emmy for its election night coverage. She also broke exclusive details of the events surrounding Osama Bin Laden's death in May 2011.
In 2002, Savannah received her Juris Doctor from Georgetown University Law Center, where she graduated magna cum laude. She graduated cum laude from the University of Arizona with a Bachelor of Arts degree in journalism in 1993. She received the top score on the Arizona Bar Exam in 2002. In 2023, Georgetown University Law Center awarded Savannah with an Honorary Doctorate of Law for her contributions as a journalist on issues pertaining to law and justice.
Savannah is a New York Times bestselling author for her book "Princesses Wear Pants" and the sequel "Princesses Save the World." She is the executive producer of the Netflix show "Princess Power," based on the book series. Savannah is married to communications consultant Mike Feldman and the couple has a daughter, Vale, and a son, Charley.