Hoda Kotb is the co-anchor of NBC News' TODAY. She is also the co-host of TODAY's fourth hour, alongside Jenna Bush Hager.
Kotb previously co-hosted the fourth hour with Kathie Lee Gifford between 2008 and 2019, an hour of morning TV that People magazine hailed as "uproarious and irresistible."
Kotb joined NBC News in 1998 as a correspondent for Dateline NBC. While at NBC News, Kotb has been honored with Emmy awards, a Gracie award and an Edward R. Murrow award. She is also the host of "The Hoda Show on SiriusXM." Kotb started her broadcast career in local news, anchoring and reporting for stations in New Orleans and Fort Myers, Florida.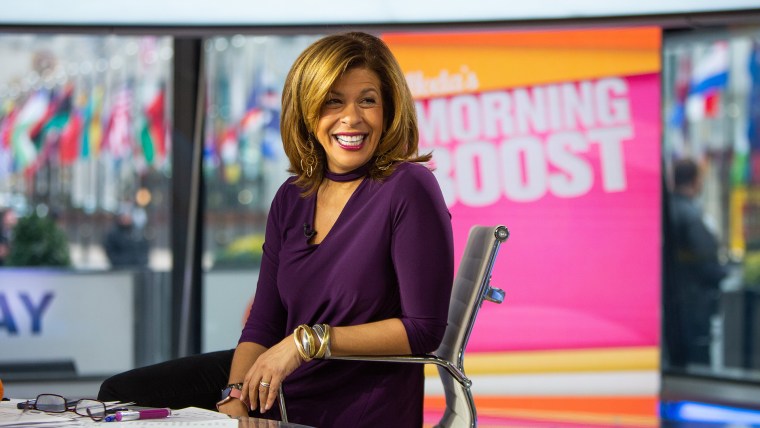 She has covered a wide variety of domestic and international stories, as well as numerous human-interest stories and features, across all NBC News platforms. She covered the aftermath and one-year anniversary of Hurricane Katrina, a story personal to Kotb who lived in New Orleans for six years. Additionally, she has reported on the war in Iraq, the conflict in the West Bank and Gaza, and the War on Terror in Afghanistan. Kotb was part of the network's extensive coverage of the 2012 Summer Olympics in London and the 2016 Summer Olympics in Rio. She also served as host of the weekly syndicated series "Your Total Health" from 2004 to 2008.
A New York Times bestselling author, Kotb has written four books: "Hoda: How I Survived War Zones," "Bad Hair, Cancer and Kathie Lee," "Ten Years Later: Six People Who Faced Adversity and Transformed Their Lives and Where They Belong." Kotb is an 9-year breast cancer survivor and is involved in several initiatives to raise awareness about the disease.
Kotb was recognized with a 2016 Gracie Award for Outstanding Host in Entertainment/Information for her radio show, "The Hoda Show on SiriusXM." In 2015, she was honored with a Gracie Award for Outstanding Host in News/Non-fiction and a Webby Award for her "Truly Brave" music video, shining a light on pediatric cancer. Kotb received additional Gracie Awards in 2008 and 2003, the Alfred I. duPont –Columbia University award in 2008, a Peabody Award in 2006 for her Dateline NBC report, "The Education of Ms. Groves" and a 2002 Edward R. Murrow Award. In 2010, 2011 and 2012, Kotb was awarded Daytime Emmys as part of TODAY's recognition as the best morning news program.
Prior to joining NBC News, Kotb worked at WWL-TV, the CBS affiliate in New Orleans from 1992 to 1998 as an anchor and reporter for the 10 p.m. news broadcast. From 1989 to 1991, she was a weekend anchor and reporter for WINK-TV in Fort Myers, Florida.
Kotb graduated from Virginia Tech University with a Bachelor of Arts in broadcast journalism. She welcomed her first daughter, Haley Joy, in February 2017 and her second daughter, Hope Catherine, in April 2019. She resides in New York City.