Al Roker is the weather and feature anchor of NBC News' TODAY, as well as the co-host of 3rd hour of TODAY. He joined in January 1996.
From July 2009 to September 2015, Roker served as co-host of the morning show "Wake Up with Al" on the Weather Channel. Until January 2000, Roker also served as the weekday weather forecaster for News Channel 4's early evening newscast "Live at 5" on WNBC-TV, NBC's flagship owned-and-operated station in New York City.
Roker came to WNBC-TV as a weekend weathercaster in December 1983 from WKYC-TV, the NBC television station in Cleveland. Roker began his broadcasting career while still in college by landing a job as a weekend weatherman at WTVH-TV in Syracuse, N.Y. in 1974. After graduation he moved on to weathercasting jobs in Washington, D.C. (1976-1978) and Cleveland (1978-1983).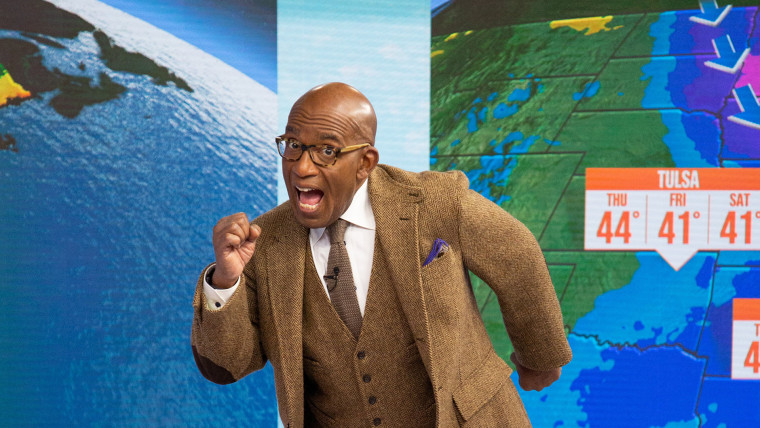 New York magazine has twice named Roker best weatherman. He is a recipient of the American Meteorological Society's prestigious Seal of Approval and has been a pioneer in the use of computer graphics for weathercasting. Roker has won three Daytime Emmy Awards as part of TODAY's recognition as the best morning newscast (2007, 2009, 2010).
Roker also co-hosts Sirius XM's "Off the Rails" with Dylan Dreyer and Sheinelle Jones and hosts "Cold Cuts with Al Roker" on TODAY.com and YouTube. He made his Broadway stage debut in "Waitress" in October 2018 at the Brooks Atkinson Theatre in New York City, playing the part of Old Joe.
In November 2014, Roker made history on TODAY for "Rokerthon," in which he broke the Guinness World Record for the Longest Uninterrupted Live Weather Report Broadcast by providing 34 hours of continuous weather coverage. The following year in October 2015, "Rokerthon 2" broke the Guinness World Record for the Fastest Time to Report a Weather Forecast from All 50 US States and the District of Colombia, which he completed in one week. In March 2017 for "Rokerthon 3," Roker visited five colleges across the country in five days and helped college students break additional Guinness World Records.
Throughout the years, Roker has reported live for TODAY from some of history's worst storms and natural disasters, including Hurricane Wilma, Hurricane Isaac, Superstorm Sandy and the earthquake in Haiti.
Among many highlights of his career as an interviewer, Roker conducted an exclusive interview with "Peanuts" creator Charles Shultz shortly before his death from colon cancer. Additional interview highlights include Willie Nelson, Burt Reynolds, James Earl Jones and B. Smith.
Since 1985, Roker has co-hosted the annual Rockefeller Center Christmas tree lighting. He also co-hosts the annual Macy's Thanksgiving Day Parade and the Rose Bowl Parade. For 10 years, from 2001 to 2010, and in 2017, Roker's "Lend a Hand TODAY" initiative took him across the country and raised millions to help small charities work towards improving conditions in their communities.
In 1994, Roker founded Al Roker Entertainment, Inc. (ARE), a thriving multimedia company involved in the development and production of network, cable, home video and public television projects. ARE produces programming for a diverse clientele including NBC News, Lifetime Television, A&E, The History Channel, E!, Discovery Networks, PBS, TV ONE, Oxygen, The Cartoon Network and NBC Television Stations Group.
Roker is a bestselling author with 12 acclaimed books to his credit: "The Morning Show Murders," "The Midnight Show Murders," "The Talk Show Murders," "Al Roker's Big Bad Book of Barbecue," "Don't Make Me Stop This Car: Adventures in Fatherhood," "Al Roker's Hassle Free Holiday Cookbook," "Never Goin' Back: Winning the Weight Loss Battle for Good," "Big Shoes: In Celebration of Dads and Fatherhood," "Been There Done That: Family Wisdom For Modern Times," "The Storm of the Century," "Al Roker's Extreme Weather" and "Ruthless Tide."
Roker is a member of several professional organizations, including the Friars Club, American Federation of Television and Radio Artists, the Screen Actors Guild and the American Meteorological Society.
Raised in Queens, New York, Roker received his B.A. in communications from the State University at Oswego in 1976 and was awarded an Honorary Doctorate from the school in 1998. He resides in Manhattan with his wife, ABC News correspondent Deborah Roberts, and has two daughters and one son.
Roker is on Twitter at @AlRoker.