Zoe Saldaña is giving a rare glimpse of the tattoo she got of her husband's face.
Saldaña shared a topless video on Instagram June 2, posing as she filmed herself in the mirror. In the short clip, fans could catch a glimpse of the small tattoo on her ribcage, which is of her husband Marco Perego. 
She wrote "#worklife" as the caption to the cute post and added "#setlife" on the video, which included a sticker that read "tattoo time" alongside the word "coverage."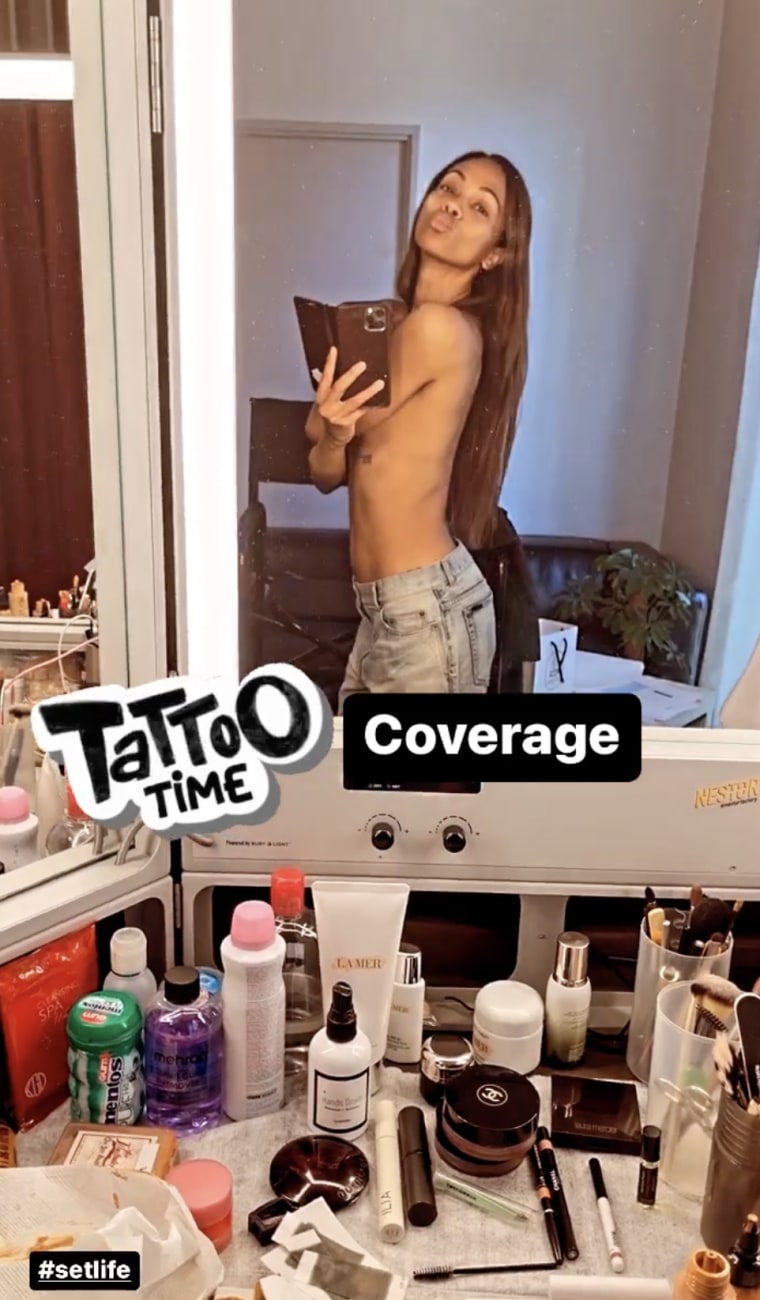 The "Avatar" star revealed the reason behind getting a tattoo of her husband's face on her body during a January 2017 interview with Entertainment Tonight.
"He has a tattoo of my face on his arm. So it was only fair that I return the gesture, and I always wanted to," she explained to the outlet. "In fact, I was the one who was going to do it in the first place, but we get our tattoos with an amazing artist called Mark Mahoney. Every time we go for me, Marco would end up convincing me that I didn't have to get it, so that he can get a new tattoo."
She added, "This time I'm like I've been waiting for years and you're not going to shelf me and I'm going to get it. It's my turn. I got it."
The actor also shared the sweet story behind how she decided what image of her husband she wanted tattooed on her. She said that when she and Perego first began dating, she knew he was an artist, so she decided to look him up online.
"So I looked him up and a picture came up. I thought it was a nice profile of his so that was the picture I wanted to have," she said.
Saldaña and Perego have been married since the summer of 2013. Together, they share three sons: twins Cy Aridio and Bowie Ezio, 8, and Zen, 6.
In January 2023, Saldaña shared a rare video of her three children on Instagram.
At the time, the actor and her sons tackled a popular TikTok trend lip-syncing a scene from "Zoolander" when Owen Wilson's character, Hansel, bumps into Ben Stiller's character, Derek Zoolander.
"POV: reminding my teens they're actually still 6 and 8," she added in the caption.