Kelsea Ballerini is opening up about her divorce from Morgan Evans, and she's doing it set to music.
In a surprise short film and EP, both titled "Rolling Up the Welcome Mat" released on Valentine's Day, the country singer-songwriter reveals details that hint to why her relationship with Evans, who is also a country singer-songwriter, ended. Ballerini wrote and co-directed the 20 minute-long film, divided up into six parts (one for each song).
"Here's my healing journey. here's my heart. here's my truth. i've never been this open, i've never been this bold, and i've never been this proud of my art, Ballerini posted on her Instagram Feb. 14.
"So with love and respect, i'm rolling up the welcome mat. six song story and short film out now. happy valentine's day."
Ballerini and Evans met as co-hosts of Australia's Country Music Channel Awards in 2016. Under two years later, Ballerini married Evans at 24. The country musicians were married for five years before splitting in 2022.
In January, Ballerini appeared to confirm she was dating Chase Stokes, a star of Netflix's "Outer Banks.
Evans and Ballerini have spoken about the divorce already. Evans told Access Hollywood going through a divorce is "lonely" at the CMAs red carpet. On an episode of the podcast Tell Me About It With Jade Iovine, Ballerini said she knew she had to leave: "It is such a disservice and a dishonoring of yourself if you know something is not right and you stay."
According to an interview Ballerini conducted with People, "Rolling Up the Welcome Mat" was Ballerini's way of getting "(her) feelings out of (her) body." The surprise short film follows her latest album, "SUBJECT TO CHANGE," released in 2022.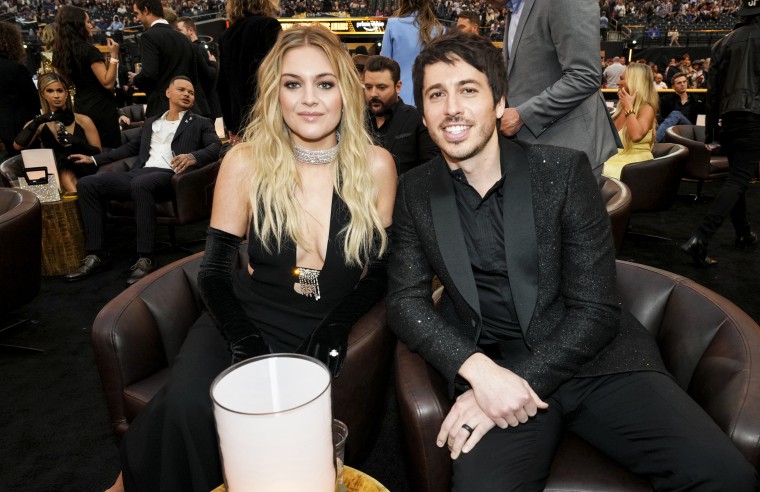 "These are six songs I wish I had last year. It's about the complexities of the feelings you go through during a massive shift at a young age," she says. "It's the way I got my feelings out of my body and heart and put them to music — which is the purest way I could've handled it."
Below, here's what we learned about Ballerini's divorce from her lyrics
The EP's lyrics hint at several phases of Ballerini's breakup with Evans.
'Mountain With a View'
In "Mountain with a View," the first of the 6-track EP, Ballerini from the perspective of someone looking back at the moment she knew it was "over."
"I'm wearing the ring still / But I think I'm lying / Sometimes you forget yours / I think we're done trying," Ballerini sings. "I realize you loved me much more at 23 / I think that this is when it's over for me."
She points to another breaking point.
"You'll say I'm crazy for bein' the one to leave / Scream I'm just like my parents and givin' up easy / But you never took that last flight to see me / Looks like our ending ain't endin' happily / I think that this is when it's over for me," she sings.
'Just Married'
On the second song on the album, Ballerini sings about how far how she's come since she was "Just Married," both in terms of years and emotional maturity.
"I don't think I lied when I said I wanted that life / Maybe I was too young to understand what I wanted to begin with," the song opens.
The song indicates that she hung onto the status of "just married" even as they drifted from it due to distance: "Long distance texts, make-up-for-time sex / Tired of asking when I'll see you next / I'm too mad to fight, so I starе and cry / At the picture of you and me wеaring white / Just married."
'Penthouse'
The EP's title refers to lyrics found in "Penthouse," a song about the home the two shared, and moving on.
In the song, she also refers to the farce of the relationship's domestic: "We played the part five nights, but we were never there on the weekends, baby," and calls it "playing home." She wonders how he really felt about her: "We got along real nice, but when I left town, did you hate me?"
She then touches on moving out of their home.
"It hurts putting s— in a box / And now we don't talk / And it stings rolling up the welcome mat / Knowing you got half," she sings in "Penthouse."
'Interlude'
On next song on the track, "Interlude," Ballerini struggles with the public discovering their breakup. "The rumors going 'round, but the truth is kinda nuanced / I wanna set it straight, but my lawyer says I shouldn't / And ain't it like this town to only criticize a woman," she sings.
'Blindsided'
In "Blindsided," Ballerini questions whether her partner saw the breakup coming — and how could he have missed it.
"I know the truth is hard to hear, but it wasn't hard to find / Baby, were you blindsided, or were you just blind?" she sings in "Blindsided."
Or, to put it another way: "Was there nothing ever wrong, 'cause you were always right? / Tell me, were you blindsided or were you just blind?
'Leave Me Again'
The final song on the EP, "Leave Me Again," shows how much Ballerini's grown since her breakup. In the lyrics she reminds herself to never lose sight of who she is in a relationship.
"For a while the shoe fit / But then I outgrew it / And staying only made me get real good at pretend / So, I hope I never leave me again," she sings.