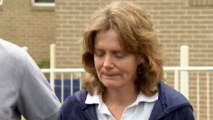 Didn't have a chance to catch up on local news yesterday? Here's what you missed:
Parents Plead for Missing College Student's Safe Return
Four days after her son never made it home to Montgomery County from his college in Rhode Island, Janet Royer made a public plea for his safe return.
Former Hero Officer Accused of Raping Women, Held on $60M Bail
A source tells NBC10 the former officer forced the women to use drugs and perform oral sex on him at gunpoint
Winning Jackpot Ticket Sold in NJ
The person who bought a winning Mega Millions lottery ticket sold in New Jersey has yet to claim the prize.
Teen Cited for Trying to Go to His Prom
A teenager was cited for disorderly conduct after authorities say he swore at school officials who wouldn't let him into his school prom, from which he'd been banned for failing to serve detention.
Man Beaten by Dollar Store Employees Speaks Out
After being severely beaten by a group of men outside a West Philadelphia dollar store, Ben Robinson thought authorities were coming to help him. But instead, he was arrested.